Reading Time:
< 1
minute
Simplicity Esports and Gaming Company (Simplicity Esports) has announced that it will, in collaboration with Esports Entertainment Group subsidiary ggCircuit, begin using its gaming PCs to passively mine crypto currencies, such as Ethereum when the machines are idle.
"We continue to find innovative ways to leverage the largest footprint of esports gaming centers in the U.S. for increasing revenue. We plan to have the first PCs mining Ethereum as soon as next week, and plan to rollout this strategy at all new locations that we acquire or build, as long as it remains economically viable. The beauty of the ggCircuit program is that initiating and halting mining activity can be done with the push of a button. At current levels, we expect to generate $100 to $125 in Ethereum per month per PC by mining during idle periods on the machines, including overnight," Roman Franklin, CEO of Simplicity Esports, said.
XTC Token's Exclusive Private Sale – Unlocking the Future of Online Gaming and DeFi" Token Private Sale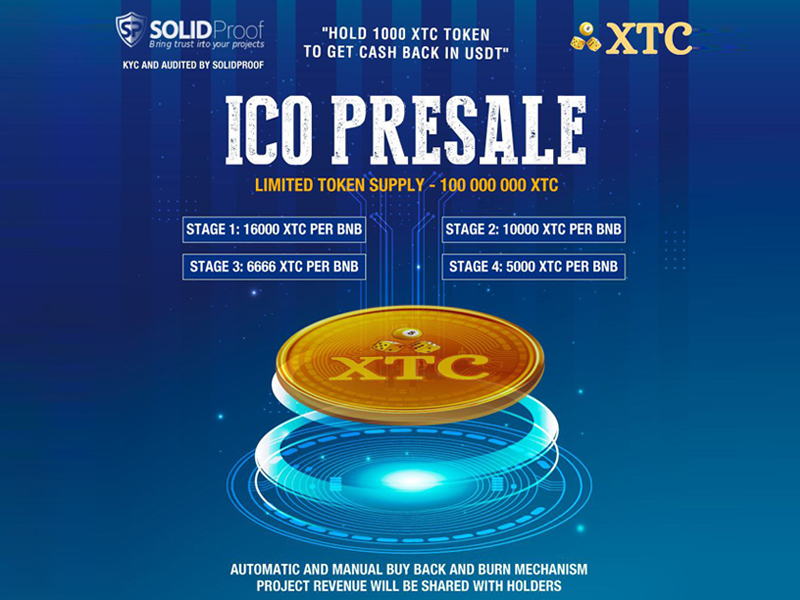 XTC, a trailblazer in the convergence of online gambling and decentralized exchange platforms, proudly announces the initiation of its private sale-ICO for the $XTC token. Launching on December 5, 2023, across prominent launchpads, the public sale marks a significant milestone in XTC's journey towards redefining the online gaming and decentralized finance (DeFi) landscape.
The XTC Experience: XTC goes beyond the conventional online casino or decentralized exchange platform, offering users a dynamic ecosystem that seamlessly integrates social interaction, gambling, and decentralized exchange (DEX). The unique daily yield system sets XTC apart, allowing users to reap rewards based on the performance of the XTC Casino. As the casino flourishes, users stand to witness their earnings grow.
Emphasizing responsible gambling, XTC encourages users to stay within their means and comply with legal gambling age regulations in their jurisdiction. The platform is committed to providing a safe and enjoyable environment, with periodic updates to terms and conditions for fairness and security.
XTC Market Value: Positioned to tap into the substantial $59.2 billion global online betting sector, XTC Casino anticipates remarkable growth. With a vast user base and the increasing adoption of cryptocurrencies, XTC aligns with the projections of the global online gambling market reaching $145.6 billion by 2030, positioning itself as a player in one of the world's fastest-growing industries.
Holding XTC: XTC token holders are more than just players; they are integral members of the community. Holding XTC provides access to an engaging social platform, offering preferred casino games while connecting with like-minded individuals. The daily yield system enhances the XTC experience, allowing users to earn rewards based on the casino's performance.
Choosing XTC means participating in a vision where the online gambling industry evolves into a more transparent, secure, and community-driven space.
Why Choose XTC?
Decentralized: Easy token acquisition with just a few clicks, cultivating an additional source of income.
High Returns: Impressive Returns on Investment (ROI), an attractive choice for those seeking financial gains.
No Lock-up Period: Flexibility to choose preferred yield options with no mandatory lock-up period.
Why Now? In the current economic landscape of increasing inflation and market volatility, diversifying assets, including cryptocurrencies, can mitigate challenges. XTC presents an opportunity to safeguard and grow wealth in uncertain times.
XTC Ecosystem: Designed to thrive amid economic uncertainty, the XTC Ecosystem provides a decentralized platform to acquire XTC tokens and enjoy daily yields—a haven for wealth preservation and growth.
Advantages of XTC:
Limited Token Supply: Scarcity adds value to the 100 million XTC tokens.
Team Token: Locked for 1 year
Token Contract: Audited by SolidProof -Germany based company
Revenue Sharing: XTC token holders benefit from a portion of the platform's revenue.
Provably Fair System: Casino games operate on a "provably fair system," allowing players to verify the fairness of their spins.
Cash Back: Hold at least 1000 XTC tokens to get cash back in USDT
Automatic & Manual Burn: Tokens are burned automatically, reducing the total supply. Manual burns may occur as market conditions dictate.
ICO Presale Stages Dec 5-Dec 13, 2023:
Stage 1 (First 48 Hours):

Token Price: 16,000 XTC per BNB
Limited Time Offer: Secure your stake with the initial stage offering maximum XTC tokens at an unbeatable rate! Act fast and be part of the groundbreaking revolution.
Stage 2 (Next 48 Hours):
Token Price: 10,000 XTC per BNB
Opportunity Strikes Again: As the clock ticks, seize the opportunity to obtain XTC tokens at a reduced rate. The momentum is building—join the movement!
Stage 3 (48 Hours):
Token Price: 6,666 XTC per BNB
The Power of Threes: In this stage, the magic number is 6,666 XTC per BNB. A perfect balance of value and opportunity. Don't miss out—your gateway to the future awaits!
Stage 4 (Final 48 Hours):
Token Price: 5,000 XTC per BNB
Grand Finale: The countdown begins for the grand finale! Secure your XTC tokens at the lowest rate of 5,000 XTC per BNB. It's now or never—position yourself for unparalleled growth.
XTC Roadmap: Key milestones, from private sales and crypto gambling games to partnerships and protocol development, mark XTC's journey. The platform evolves to meet community requirements and the dynamic landscape of online gambling and DEX industries.
Join the XTC Community: XTC is not merely building a platform; it's cultivating a community. Join XTC to be part of the future of online gambling and decentralized exchange, where the world redefines the gaming and finance experience.
Follow XTC on social media for the latest updates:
Website: https://xtc.exchange/
Twitter: https://twitter.com/XTCOfficial
Telegram: https://t.me/xtcannouncement
Telegram Chat: https://t.me/xtcexchange
EthBet Poker: Pioneering Decentralized Poker and Crypto Gaming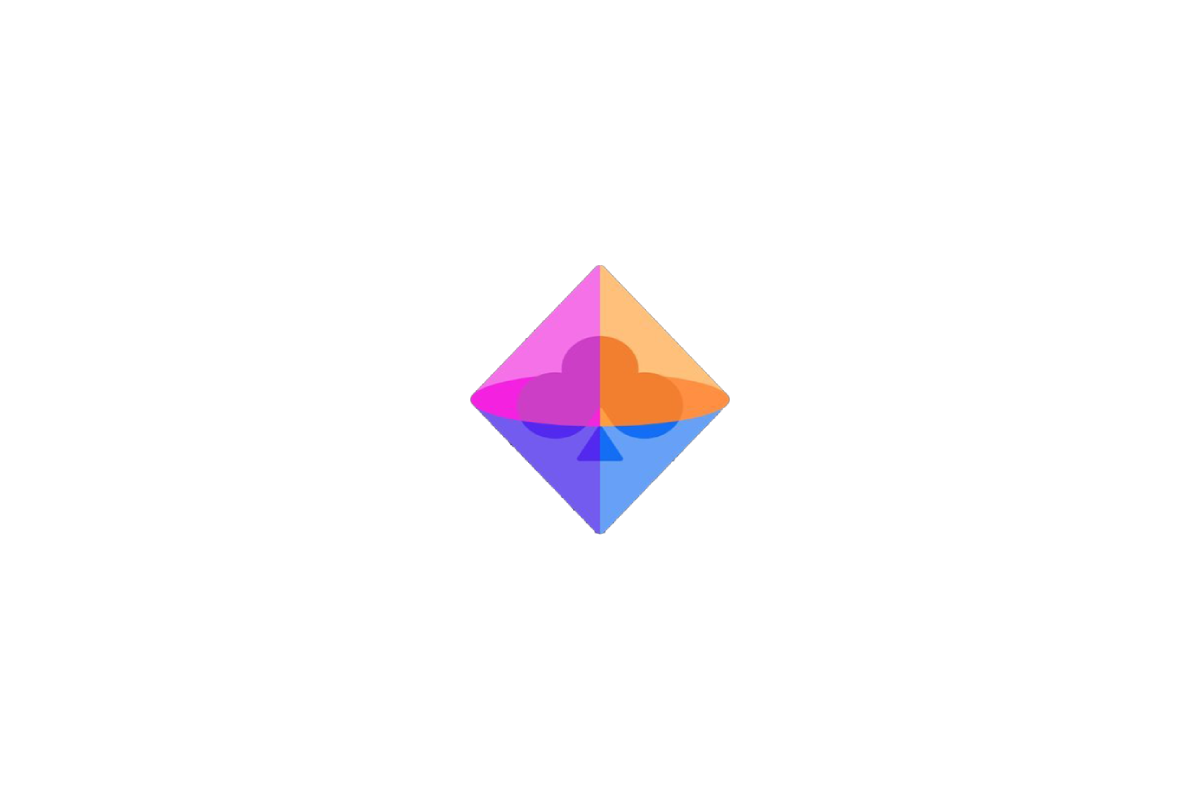 Introduction: EthBet Poker heralds a groundbreaking era in the world of online poker with its revolutionary Decentralized Poker platform. This innovative ecosystem combines an ERC20 token, $EthBet Coin, with cutting-edge online poker software, allowing users to stake their tokens within the platform, transforming their gaming experience.
Exploring $EthBet Coin:
$EthBet Coin, operating on the ERC-20 protocol, serves as the backbone of our platform. Acquired through Uniswap and designated Dex platforms, this versatile token finds utility within the EthBet Poker. While not mandatory, integrating $EthBet Coin enhances gameplay, enabling promotions, bets, and seamless transactions within the platform.
Benefits of $EthBet Integration:
Rakeback Opportunities: Players leveraging $EthBet for Community Contributions enjoy an impressive 33% rakeback, potentially turning losing players into break-even contenders or elevating break-even players to profitable status.
Holders Tier Levels: The platform introduces tier-based levels, encouraging token holdings, fostering an engaging and competitive environment.
To sustain our intricate ecosystem, a seed sale marks the initial phase, offering early investors a discounted token price. This approach ensures the essential funding required for seamless operations and ecosystem growth.
EthBet Poker Highlights:
Software Features: EthBet Poker prides itself on quick withdrawals and deposits, a user-friendly UI design, 24/7 Telegram support, and exciting weekly freerolls and tournaments exclusively for $EthBet holders.
Bonuses and Rewards: Players receive a 33% rakeback through $EthBet contributions. Additionally, reduced conversion fees and a lucrative affiliate program amplify player benefits.
Featured Games: EthBet Poker offers popular poker variants, including Texas Hold'em, Omaha, and 5 Card Omaha.
Responsible Gambling: EthBet Poker is committed to promoting responsible gambling, ensuring a safe and enjoyable gaming environment for all players.
Conclusion:
Join EthBet Poker, where innovation meets entertainment. Elevate your poker experience with $EthBet Coin, enjoy a myriad of bonuses, participate in thrilling tournaments, and become a part of our vibrant poker community. With EthBet Poker, your poker journey reaches new heights, combining cutting-edge technology with unparalleled excitement.
9M 2023 Crypto in iGaming Landscape: Moderate Growth Amidst Fiat Rise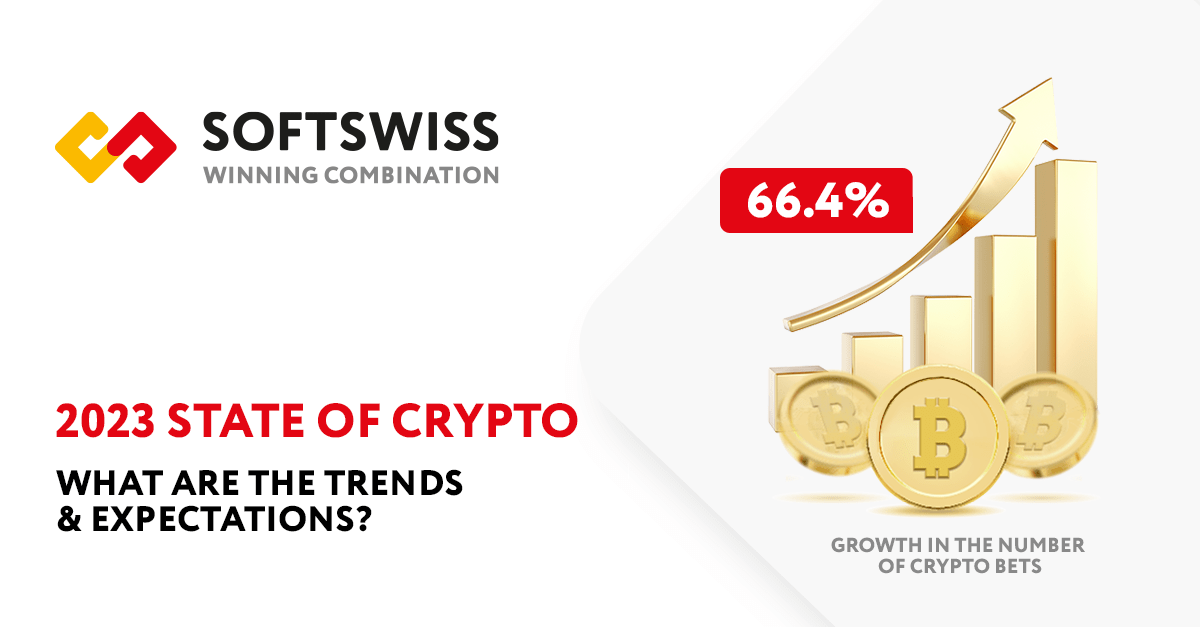 Reading Time:
4
minutes
SOFTSWISS' latest analysis indicates that the cryptocurrency segment is experiencing slower growth compared to the broader iGaming industry. The pioneer in offering cutting-edge crypto iGaming software presents insights into the latest crypto gaming trends.
The analysis is founded on the data collected across 530+ brands powered by the company. It takes into account the in-game currency conversion capabilities, enabling SOFTSWISS clients to seamlessly involve players with cryptocurrency holdings in games originally tailored for fiat only.
IGAMING MARKET GROWTH
During the first three quarters of 2023, the iGaming market consistently grew. In absolute terms, the total wagered amount showed a 36.6% increase compared to the same period of the previous year, while the number of bets saw an even more impressive growth of almost 50%.
STATE OF CRYPTO
In the comparative analysis of crypto bets spanning the first nine months of 2023 and the same period of the previous year, a noteworthy 18.7% monetary growth is observed. At the same time, the number of crypto bets has surged by 66.4% since 2022. Simultaneously, the share of crypto in the Total Bets Sum demonstrated a slight decrease by 4.3 p.p. to finally settle at 28.5%.
Diving deeper into the analysis, which has been ongoing since the beginning of 2022, it becomes evident that the sums of crypto bets experienced incremental growth from quarter to quarter during this period, but their share in the Total Bets Sum decreased slightly, primarily due to the more impressive quarter-to-quarter increase in the sums of fiat bets.
Andrey Starovoitov, Co-CEO at SOFTSWISS, comments: "An 18% increase in crypto bet sums may appear very modest when juxtaposed against a more substantial 45% expansion in fiat bets during the first three quarters of 2023. Taking into account the state of crypto in other spheres, such as fundraising, where the third quarter showed its worst results since the end of 2020, the position of cryptocurrencies in iGaming could be evaluated as comparatively stable at the moment."
FLUCTUATING CRYPTO BET
The analysis of the average bet presents an engrossing picture. While the average fiat bet remains stable, hovering around 0.82 euro during the first three quarters of 2023 as well as in the same period of 2022, the average crypto bet lost almost 30 p.p. on average, displaying a quarter-to-quarter variability. It initially increased from 1.56 euro at the end of 2022 to 1.88 euro in Q2 2023 but subsequently declined to 1.59 euro in Q3 2023. Such fluctuations can be attributed to the inherent volatility in cryptocurrency rates and market expectations.
SOLID TOP OF CRYPTOCURRENCIES
The Top 5 most used digital coins in iGaming remained unchanged since the beginning of 2022.
During the first three quarters of 2023, the cryptocurrency distribution structure is as follows:
Bitcoin – 74.9%
Ethereum – 8.9%
Litecoin – 6.0%
Tether – 4.6%
Dogecoin – 3.0%
In the world of digital currencies, Bitcoin has witnessed the most substantial growth, marked by a 3.9 p.p. increase in its share compared to the first three quarters of the previous year. Conversely, Ethereum experienced a decline, losing 6.3 p.p. in its market share during the same period.
Andrey Starovoitov, Co-CEO at SOFTSWISS, summarises: "Due to their technological nature and relatively recent emergence, cryptocurrencies are developing within a rapidly changing landscape, pivoting on diverse economic and societal factors. At the moment, we are observing their moderate popularity among players in the growing fiat segment, and the results of the final quarter of 2023 hold increasing fascination. Being the 'number one' crypto solutions provider, SOFTSWISS remains committed to imparting its expertise on the relevant trends in iGaming."
About SOFTSWISS
SOFTSWISS is an international iGaming company supplying ISO 27001-certified software solutions for managing gambling operations. The expert team, which counts 1,400 employees, is based in Malta, Poland, Georgia, and Belarus. SOFTSWISS holds a number of gaming licences and provides one-stop-shop iGaming software solutions. The company has a vast product portfolio, including the Online Casino Platform, the Game Aggregator with thousands of casino games, the Affilka affiliate platform, the Sportsbook Software and the Jackpot Aggregator. In 2013, SOFTSWISS was the first in the world to introduce a Bitcoin-optimised online casino solution.