Tain, the gaming software and solutions provider, has successfully launched its new Fast Bet sports betting service.
Fast Bet gives punters the opportunity to place wagers on whether incidents will take place within a defined period during a sports event.
Markets for football matches include whether there will be a goal, corner, free-kick, goal-kick, red card or throw-in during the period, with Fast Bet also available for other major sports. Punters simply click on an event and select the timeframe, which could be as little as a single minute.
Fast Bet – which Malta-based Tain is to showcase at next month's ICE 2017 event in London – enhances Tain's already comprehensive sportsbook service.
Tain Managing Director Mathias Larsson said Fast Bet offers operators the opportunity to differentiate themselves from the rest of the sector.
"Sportsbooks that can offer something different will be the ones that prosper in a competitive marketplace," said Larsson. "Fast Bet is an exciting new service that can help operators to stand out from the rest.
"Fast Bet is ideal for those punters who become bored through having to wait until half-time or full-time to see their bet settled.
"Sports fans can put their knowledge and expertise to the test over a limited period of time. If they think a spell of attack is certain to lead to a goal, or if they think a couple of bad tackles might culminate in a red card, the Fast Bet service is perfect for them."
Fast Bet is the latest enrichment to Tain's service since it was acquired by XIN Gaming last June.
Last month it was announced that Tain would increase the number of live events it covers each month to 23,000. In increasing the number of sports covered to 50, Tain now offers markets on the likes of curling, biathlon and water polo, as well as traditional major verticals such as football, tennis and US sports.
Larsson added: "Tain now offers the extras that complement its fully-managed sportsbook. Operators are excited by our enhanced service, and we look forward to displaying our offering to the rest of the sector at ICE 2017."
The Fast Bet service will be demonstrated at Tain's stand (S1-342) at ICE 2017.
~~~~~~~~~~~~~~~~~~~~~~~~~~~~~~~~~~~~~~~~~~~~~~~~~~~~~~~
About Tain
Tain is one of the most established content and technical services providers in the online gambling industry, having been founded in 1999. Tain's strengths are its in-house products, including a market-leading gaming platform, payment gateway, casino games, and a comprehensive sports book and odds feed. Tain has also integrated top-tier game providers such as NetEnt, Evolution and Play'nGo.
Contact information:
Mathias Larsson
Managing Director
UltraPlay at SiGMA Europe Summit, Malta 2023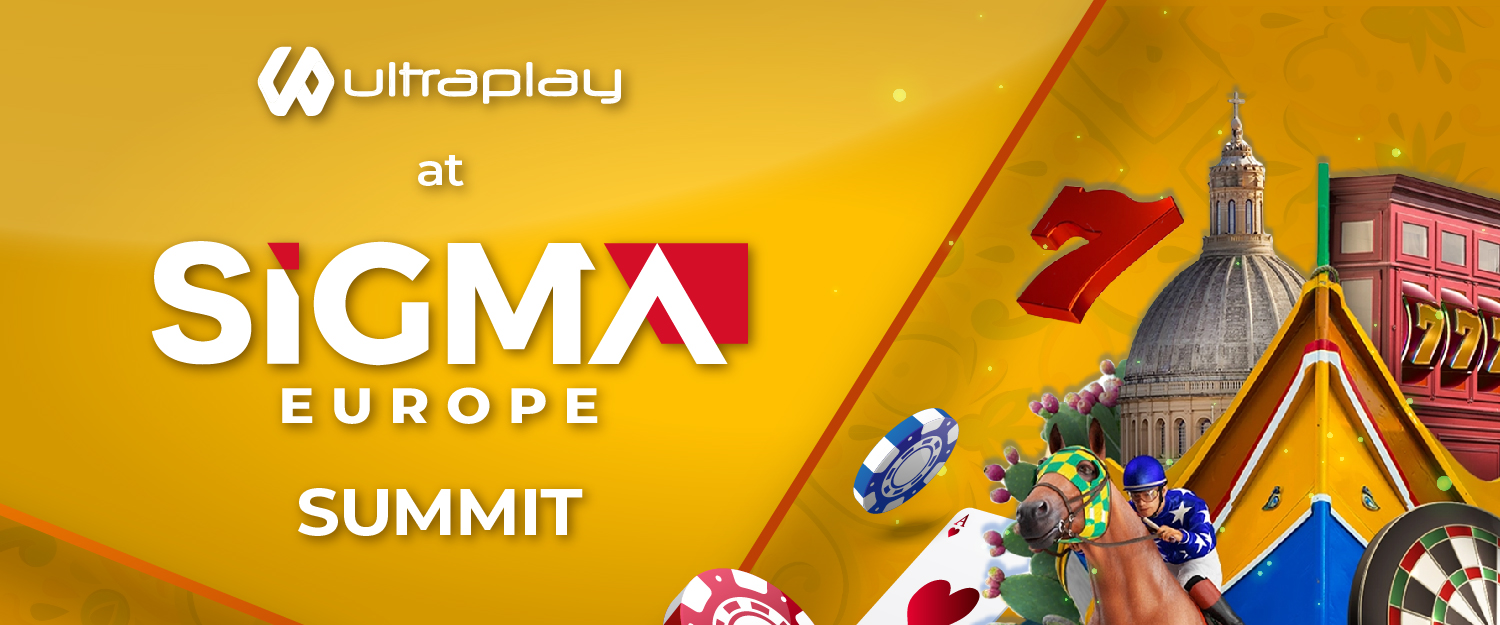 Reading Time:
2
minutes
In November 2023, UltraPlay exhibited at the SiGMA Europe Summit in Malta. This three-day event served as the grand finale to our bustling year, providing a strategic platform where we diligently worked on strengthening existing partnerships and exploring collaborative opportunities with esteemed industry colleagues.
Aside from the regular hustle and bustle, we also had the chance to participate in a panel discussion organized by SiGMA. The topic was "The Gambler's Journey: Balancing Entertainment And Addiction" where our CEO, Mario Ovcharov shared his insights on responsible gambling and what operators can do to ensure it.
At the heart of our engagement was a carefully crafted stand that stood as a beacon of innovation and excellence. Our participation in this summit was not merely about showcasing products and services; it was a reaffirmation of the relationships we've built and the collaborative spirit that defines the iGaming landscape. We express our gratitude to everyone who visited our stand, engaged in meaningful conversations, and contributed to the success of this event.
UltraPlay is a multi-awarded betting provider part of ODDS Group, offering a wide range of iGaming solutions. Whether you're looking for implementations such as a Sports and eSports solution or on the search of a platform provider, we are your best bet. As the culmination of our year, SiGMA Europe Summit was a long awaited event for which we thoroughly prepared. It was an anticipated opportunity to once again position UltraPlay as a leading company in the lively gambling industry.
Beyond the summit's walls, we immersed ourselves in the captivating charm of Malta. The city provided more than just a backdrop; it offered a vibrant atmosphere that resonated with the energy of the iGaming community. Every moment spent in Malta, from forging partnerships to exploring new opportunities, was a meaningful investment in the future of UltraPlay.
SiGMA Europe Summit in Malta is a pivotal event for the iGaming industry and UltraPlay is sure to never miss out on it. As we turn the page on this year, it becomes a stepping stone, propelling us into 2024 with anticipation and excitement. We are confident to embark on new ventures, explore fresh collaborations, and continue our legacy of innovation in the ever-evolving world of iGaming.
Jelly Entertainment Awarded Game Host Licence by Gambling Commission and Recognition Notice by MGA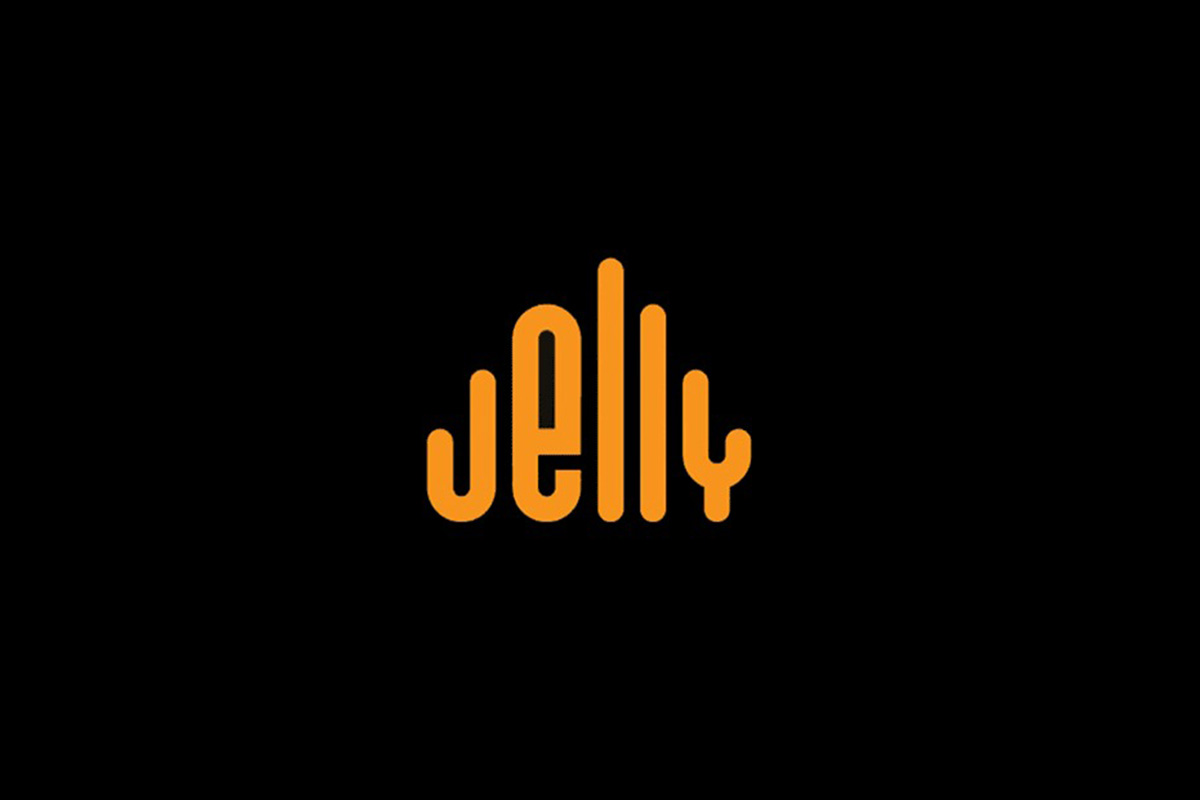 Reading Time:
2
minutes
Jelly Entertainment has received regulatory approval for its proprietary platform from both the Gambling Commission and the Malta Gaming Authority (MGA).
With a Game Host licence in the UK and a Recognition Notice in Malta, the supplier will now have full control of its proprietary technology development and delivery schedule.
These licences pave the way for fostering innovation in platform features and new in-game mechanics as well as bolstering tailored support for operators. It additionally ensures system reliability and security as the business transitions to the next stage in its journey.
Its platform and game content is already certified in accordance with the technical requirements of the Gambling Commission and MGA, and also supports the regulatory requirements of regulators in Sweden, Denmark, Italy and Portugal, as well as multiple other markets.
Having already forged a reputation for successful gaming content, its soon-to-launch titles include CleoPatrick, Midas Riches and Wicked Riches of Oz. Operating since 2020, Jelly is driven to create immersive, supercharged, omni-channel entertainment. In this way it can reach players wherever they are, whenever they want to play, and in any channel they choose – casino, retail or digital. Its manifesto is built on its restless spirit of entrepreneurship; a strategy to differentiate its slot design and delivery by adopting a balanced mix of evolution and revolution.
David Newstead, CEO at Jelly, said: "We are really pleased to see our efforts recognised by another leading authority, and our Notice of Recognition by the MGA is an exciting step forward as we continue to propel ourselves from challenger brand to the ranks of full-service B2B supplier.
Our thanks to the Gambling Commission and Malta Gaming Authority for helping us to achieve another important step on our journey, and we're looking forward to seeing our titles land in a number of lobbies across Europe and beyond soon."
Fast Track Celebrates Great Place to Work™ Certification for Second Consecutive Year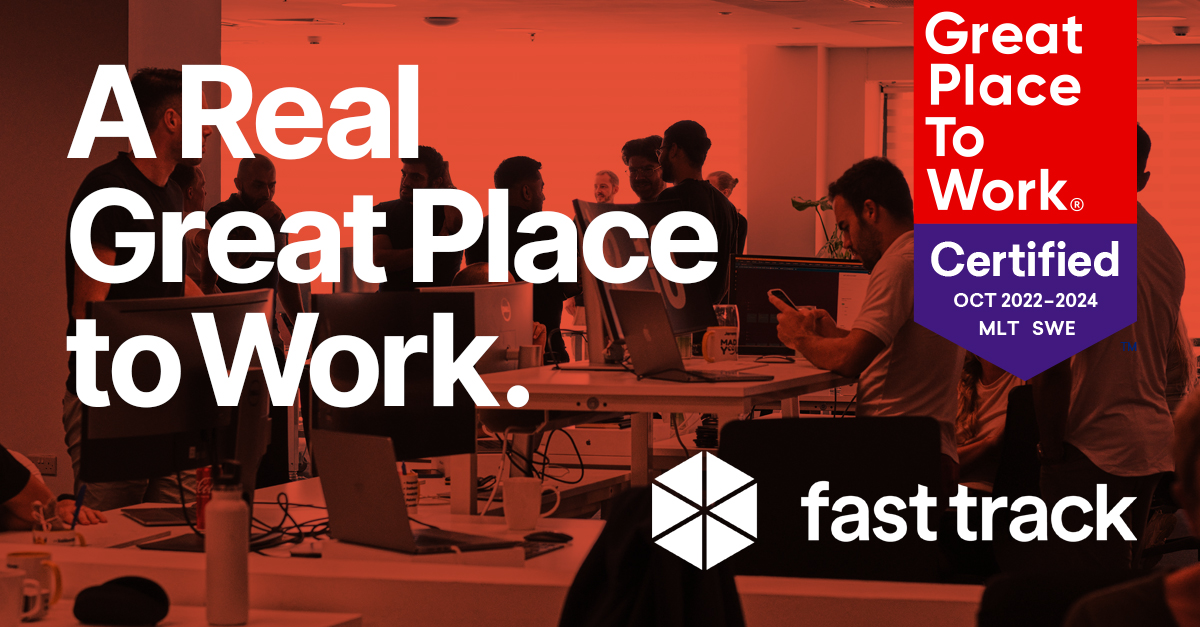 Reading Time:
2
minutes
Fast Track, a technology company in the iGaming industry, is proud to announce that it has once again secured two country-specific certifications as a Great Place to Work for 2023/2024. The prestigious certification evaluates companies through the perspectives of current employees, gauging their sentiments about their workplace.
Fast Track believes in the positive impact of high employee trust and engagement on business performance and chose Great Place to Work to gain valuable insights into enhancing the workplace culture and drive better business outcomes.
For the second year running, Fast Track has achieved a remarkable Trust Index™ score of 91%, earning certification for both its offices in Malta and Sweden. This impressive Trust Index score places Fast Track thirty-three points above the average work experience and amongst the very best workplaces in Europe and Sweden – a country with an earned reputation for its commitment to creating a supportive, balanced, and equitable work environment that values employee well-being, safety, and engagement.
The certification reinforces Fast Track's position as a world-class employer, as well as its commitment to providing an exceptional workplace experience for all employees globally. Commenting on this achievement, Chief People Officer at Fast Track Jenny Arnell states;
"Building on last year's exceptional Trust Index results was no small feat. We understood that maintaining such a high score during our rapid growth presented a real challenge. Since last year, we've navigated expected 'growth' challenges to our culture and organisation, and we have placed extra effort to keep our focus on our shared vision and values, as well as finding strategies to meet capacity needs. Although we have hired a lot of people and grown the teams significantly, the results remain incredible, highlighting the value return of our commitment to culture, trust, and employee engagement. We're motivated to keep adapting our culture, maintain open communication, prioritise employee well-being, and focus on customer success while implementing scalable processes for our growing company."
"Earning the Great Place To Work certification is a significant accomplishment which underscores consistent and deliberate commitment to providing an outstanding employee experience," states Linda Löfman, senior consultant at Great Place to Work, Sweden.
"Achieving 91% on the Trust Index™ score is an impressive result which demonstrates unwavering dedication to creating an exceptional workplace experience. This remarkable achievement, coupled with their 100% response rate, is a testament to an exceptional level of employee engagement. Earning this designation means that Fast Track is one of the best companies to work for in Sweden and Malta."
Great Place to Work's research has consistently shown that high-trust organizations with strong camaraderie outperform their peers and have lower turnover rates, making camaraderie not just a "nice-to-have" but a strategic imperative for organizational success. Fast Track's remarkable camaraderie score is a celebration of the company's ability to protect the vision, create clarity and provide direction to internal teams.