Reading Time:
2
minutes
New System Allows Bookmakers To Take Action On Historical Tennis Matches
LSports, the industry leader revolutionizing sports betting with real-time data API, today announced the launch of its Tennis Betting Simulator in an effort to help sportsbooks continue to do business while the majority of sports leagues around the world remain shuttered due to the coronavirus pandemic.
This offering is the perfect solution to bookmakers that allows them to operate while live tennis remains on hiatus. The product provides a lifeline to sportsbooks that have completely lost their tennis revenues without any definitive timeline as to when those might return.
The Tennis Betting Simulator leverages LSports' historical tennis database which has cataloged over one million different tennis matches and associated statistics — down to each and every point. Each match features its original pre-match and in-play odds, backed by high-quality visualization mirroring the precise action that previously took place on the court along with a variety of features, all resulting in increased turnover engagement rates.
The player names, tournaments, dates, and times have all been changed. Using distorted names of top active and hall of fame players to increase the bettors' engagement in the matches. The real information regarding the actual participants, the specific tour, date, and time of the historical match will be revealed to bettors after the conclusion of each simulated match. This practice will legitimize the simulations and allow bettors to verify their historical accuracy.
"Sports fans around the world are starved with nearly every league shutting down operations indefinitely," LSports co-founder and CEO Shaul Lazar said. "Our Tennis Betting Simulator can help satiate that hunger and allow sports gambling enthusiasts to partake in the hobby while leagues' doors remain closed. We've created a system that precisely redevelops historical tennis matches while maintaining their integrity, providing sportsbooks a solution that will reopen tennis revenues."
Additional features of the Tennis Betting Simulator include:
Over one million historical matches
High-quality matches featuring, best-of-five, best-of-seven, best-of-nine games and full-set formats
Up to 500 matches played per day
24/7 matches
Features both pre-match and in-play betting markets such as game-winner, point winner and match-winner
Visualization features that include ball movement, heatmaps, shot placements, score changes, and statistics
LSports' Tennis Betting Simulator is already available. The company provides real-time sports data solutions for bookmakers, affiliates, and media groups. In addition to traditional sports, the company also provides comprehensive esports data feeds including major games such as FIFA, Dota 2, LOL, and CS:GO, along with vast offerings of table tennis, virtual sports, racings, and special bets. Overall, LSports covers over 60 sports, standing on an average of 35K in-play and 105K pre-match events per month.
7777 gaming partners with Soft2Bet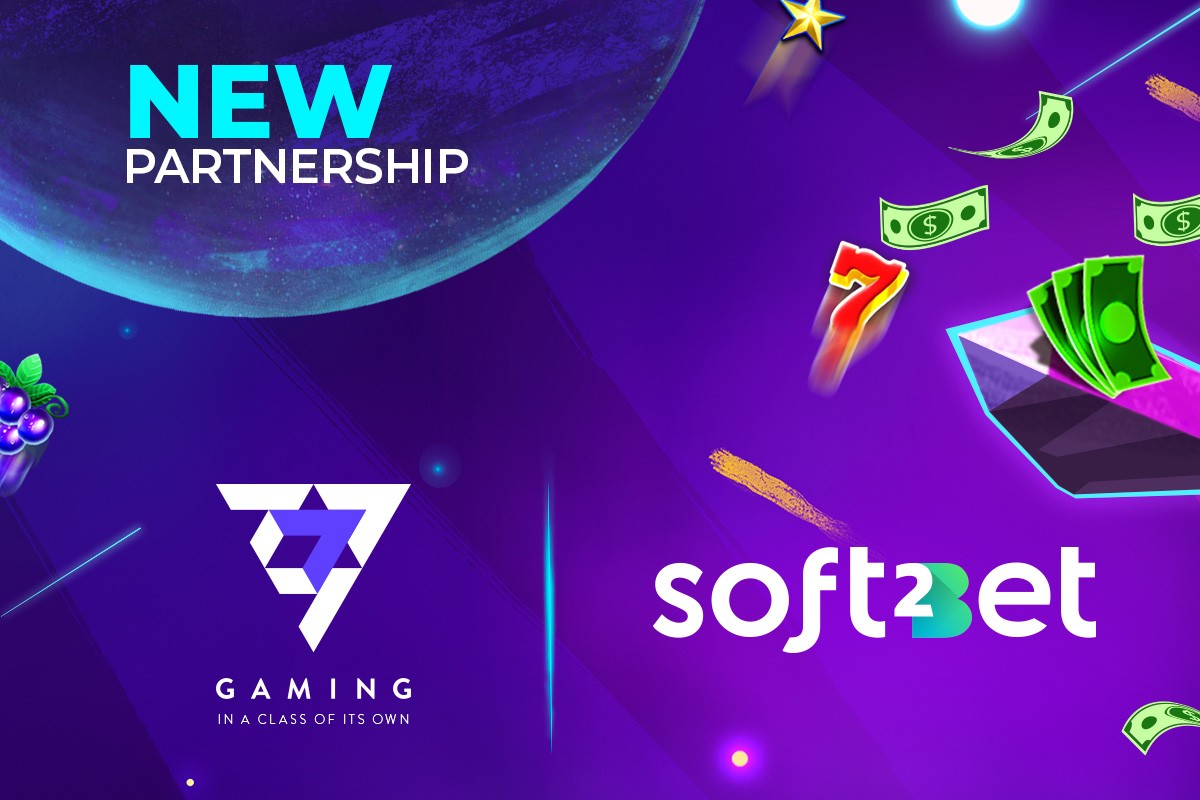 Reading Time:
2
minutes
7777 gaming partners with Soft2Bet – a leading B2B casino and sportsbook platform provider, offering a comprehensive product suite of products and services for iGaming operators in regulated markets. Due to the partnership, 7777 gaming has become the latest casino provider added to Soft2Bet impressive worldwide portfolio of brands, including recognized names such as Betinia.dk, Betinia.se, Betinia .com, Yoyocasino.se, and Yoyocasino .com. 7777 gaming is presented there with its entire portfolio of 100+ online casino games.
Soft2Bet holds Maltese, Swedish (B2C and B2B), Danish, Irish, Greek (B2C and B2B), and Romanian licenses. The company offers over 8,500 games from 120 providers, supports 150 payment methods across various countries, and accommodates over 20 languages, among other capabilities.
Elena Shaterova, CCO at 7777 gaming, stated: "Soft2Bet has developed and deployed many leading brands worldwide, and we are excited to be part of such a strong and vast community of online gaming admirers. Our games are designed to meet the needs of a variety of players, from experienced gamers to those just starting out. We are confident that our partnership with Soft2Bet will be beneficial for both parties, and we are looking forward to working with their team of experts."
George Wadsworth, Head of Casino at Soft2Bet, said: "7777 gaming is a new casino content provider that we are excited to add to our portfolio. They provide a modern and unique approach to online gaming that we believe will be a welcome addition to our clients. Having access to their content means more entertainment options for our end-users. We believe in the great success of our partnership and look forward to amazing results that are ahead of us."
7777 gaming is constantly releasing new engaging games that are designed to satisfy a wide variety of players, as its portfolio grew to more than 100 thrilling titles.
REEVO and NuxGame Unite to Deliver Cutting-Edge iGaming Solutions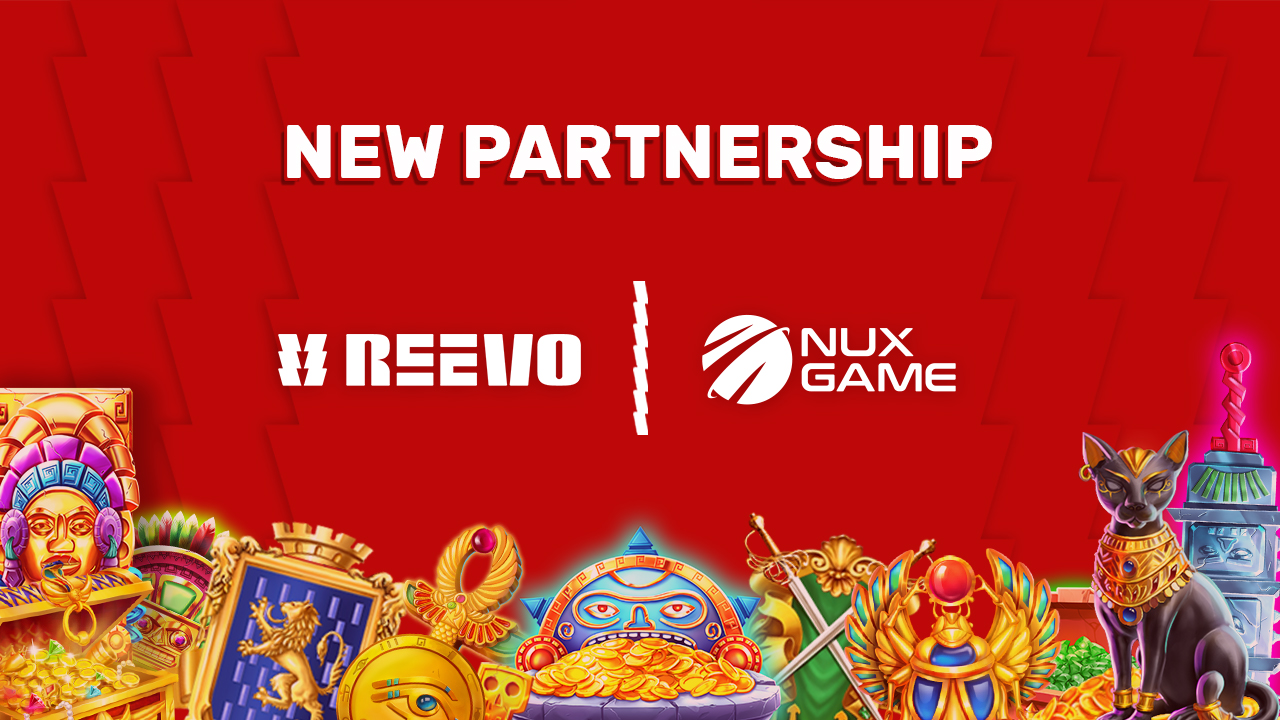 Reading Time:
2
minutes
REEVO, the B2B content and aggregation platform, has signed a partnership deal with NuxGame, a well-established B2B software provider in the iGaming industry. This exciting collaboration aims to deliver an even more captivating and diverse gaming experience to players worldwide.
REEVO, known for its cutting-edge content aggregation platform and commitment to offering top-quality gaming content, is set to integrate NuxGame's innovative online gaming and sports betting solutions into its extensive portfolio. NuxGame, supplied iGaming solutions  including a sportsbook with custom-built odds for over 370,000 monthly sporting events, a casino featuring top-quality games from more than 120 leading game providers, and a comprehensive aggregation of casino games.
NuxGame's extensive expertise in the iGaming industry, along with its loyalty system to ensure players engagement and operator's success, aligns perfectly with REEVO's mission to continuously improve and diversify its offerings. This partnership promises to elevate the gaming experience for both existing and new players.
Petra Maria Poola, Head of Sales at REEVO, expressed her enthusiasm, stating, "The collaboration with NuxGame enhances our commitment to offering a diverse and top-quality gaming experience. We are thrilled to bring NuxGame's innovative solutions to our platform, enriching our content library and solidifying our position in the iGaming community."
Denis Kosinsky, Chief Operating Officer at NuxGame, added: "Our latest deal with REEVO marks a new step for NuxGame and sets up both companies to enhance their offering with industry-renowned content and solutions.
We are delighted to be offering clients an expanded selection of casino titles enabled through this latest agreement."
As part of its ongoing commitment to growth, REEVO plans to add more than 60 new game providers in 2023, further enhancing its extensive collection of 8000+ games, including slot, table, crash and live gaming experiences.
For operators and players looking for an exceptional iGaming experience, the collaboration between REEVO and NuxGame promises an exciting future filled with diverse and engaging gaming content.
SOFTSWISS Shares 54 Vital KPIs for Online Casinos and Sportsbooks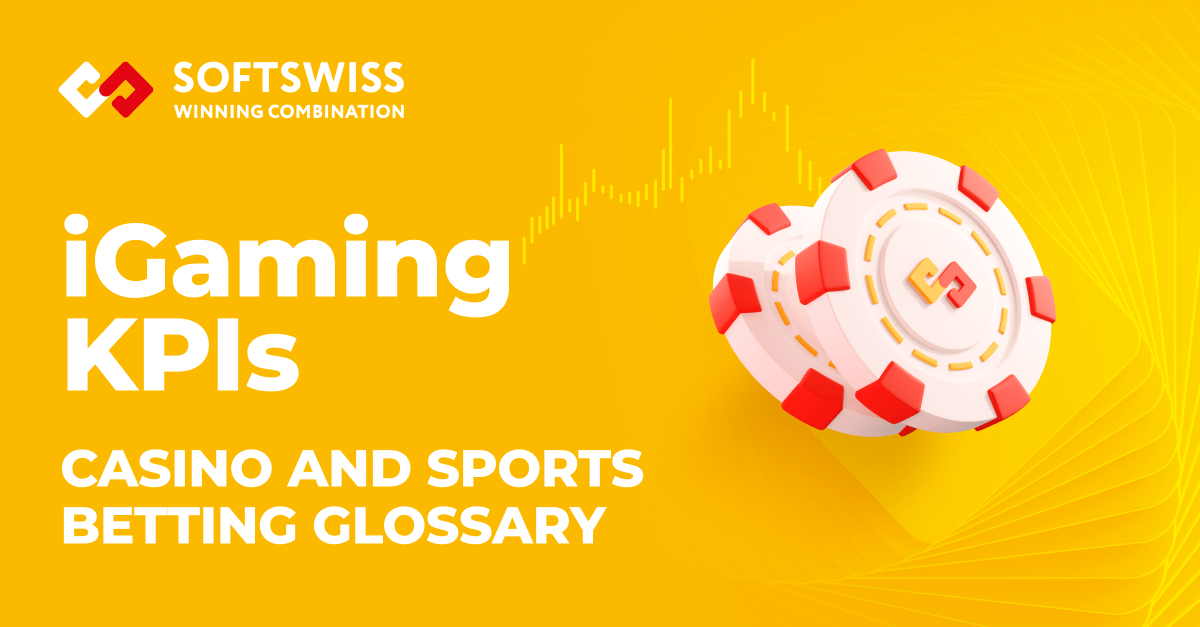 Reading Time:
2
minutes
SOFTSWISS experts have compiled a comprehensive guide containing 54 essential metrics, a curated list of valuable analytical tools, and insights into global trends in the casino and sports betting industry. The guide is readily available for free download.
The document helps increase understanding of the most important iGaming key performance indicators (KPIs), covering top-level, derivative, and operational metrics. This authoritative glossary delves into the often-overlooked complexities of KPIs, dividing the content into four core parts:
The

Financial Metrics

section highlights not only Gross Gaming Revenue (GGR) and Net Gaming Revenue (NGR), but also the importance of Average Revenue Per User (ARPU), Conversion Rate, and Customer Acquisition Cost (CAC).

The

Player Engagement Metrics

section draws attention to key engagement indicators such as Active Players, Depositing Players Count, and Total Deposits Sum.

The

Operational Metrics

section explores player acquisition and retention strategies, with a specific focus on their role amidst major sporting events.

The

Analytical Tools and Trends

section focuses on the usage of real-time dashboards, data warehouses, and the evolving significance of Artificial Intelligence and Machine Learning.
Each KPI on the list includes a definition, formula, type, and keynote regarding its impact on the iGaming business. For example, NGR is categorised as a top-level KPI, providing a clear snapshot of the casino's financial health. Monitoring NGR closely allows operators to evaluate their operational efficiencies and make informed decisions about scaling their offerings or optimising existing operations.
Max Trafimovich, CCO at SOFTSWISS, comments: "By launching this useful glossary, SOFTSWISS is continuing its commitment to help operators develop their businesses in the most efficient way. Listed KPIs are the essential metrics that measure the overall performance of a casino or sportsbook. By classifying them into strategic, tactical, and operational categories, operators can gain a comprehensive view of business beyond just financial metrics, including brand resonance and player experience. By aligning KPIs with unique business goals, our partners can develop a robust and adaptable strategy that sets them apart in the highly-competitive iGaming landscape."
SOFTSWISS has recently published another helpful overview of the iGaming business – the market report 'iGaming in Brazil'. This exclusive report provides a comprehensive overview of the Brazilian iGaming landscape, equipping operators with the essential information to launch an online casino or sportsbook in the region.
About SOFTSWISS 
SOFTSWISS is an international technology company supplying ISO 27001-certified software solutions for managing iGaming projects. The expert team, which counts more than 1,400 employees, is based in Malta, Poland, Georgia, and Belarus. SOFTSWISS holds a number of gaming licences and provides a one-stop-shop iGaming software ecosystem. Its product portfolio includes the Casino Platform, the Game Aggregator with thousands of casino games, the Affilka (affiliate platform), the Sportsbook Platform and the Jackpot Aggregator. In 2013 SOFTSWISS was the first in the world to introduce a bitcoin-optimised online casino solution.