Reading Time:
3
minutes
One of the world's most beautiful archipelagos (yes, Malta is not just one island). Set of epic films and TV shows, like Troy, Gladiator and Game of Thrones. A walker's paradise during almost all seasons of the year, with stunning views from dramatic cliff edges. Fantastic cuisine. Picturesque capital Valetta.
And yet, when it comes to online gaming, there is something more in Malta than the above, something that has turned it into the Mecca of the gambling world. We are talking of course about the Malta Gaming Authority which has become the world's preferred remote gaming regulator. Don't get us wrong Curacao license holders, your license is still decent, but Malta is in a league of its own.
How have the Malta Gaming Authority done it? By offering a solid legal framework for service providers, operators and online players. Any company which wishes to obtain the coveted MGA gambling license has to meet a number of strict criteria, ranging from ownership structure and credibility to integrity and competence.
Which brings us to the happy news from the King Billy Kingdom. It was due and it is now a fact, that King Billy Casino, owner of several impressive industry distinctions, awards and trophies in less than 3 years of operations is now also a proud holder of the MGA license.
Good news from the Kingdom, so we reached out to a few key persons of the organization for statements. King Billy Casino CEO Volodymyr Harkusha (and "First Lord" of the Kingdom) explains: "At King Billy Casino, we view our course, so far, as a journey where the destination can only be reached by taking methodical steps. One of these steps, actually a giant leap for us, is our MGA license."
So, what has changed for King Billy Casino with the new license? Harkusha points out "You know, even before the MGA license, we were implementing a modus operandi at King Billy Casino, exactly as if we had a Malta license. This means a policy of full transparency. We expect that combining this policy with the Malta regulations will make the relationship with our players even more reliable, trustworthy and secure."
And what about new opportunities? Ruslan Legenzov, King Billy Casino Head of Affiliates (and "Lord of Affiliates" of the Kingdom) shares his thoughts with us: "Plenty of opportunities, which we will try to capitalize at a maximum level. New payment systems, like Trustly, the "darling" PSP of European players will now be available at King Billy, along with tax-free transactions.
Furthermore, our King Billy Casino MGA site will feature a brand new Loyalty Program with a refined bonus system and no less than 7 levels: Citizen, Baron, Earl, Marquess, Duke, Prince, and finally King, next to King Billy himself. Female titles apply too for ladies, so we invite everyone, above 18 years of age for a ride."
The King Billy Casino CEO compared the casino's course to a journey. So, what is the destination of the journey? Volodymyr smiles "We are trying to make it the most interesting type of journey – a never ending one!"
We must admit that we like this way of thinking, and for the time being we reckon that "His Majesty King Billy and his faithful servants" could use some rest on this long journey. And what best place to rest than Malta?
MGA, the Malta Gaming Authority, is a Malta-based Gaming Control Board. Its mission, since its inception in 2001, is based on the principle of having a transparent and fair gaming sector in Malta, to safeguard against corruption and crime and offer protection to vulnerable players and minors.
King Billy Casino is a new generation online casino, available in 6 languages (English, German, Russian, Finnish, Norwegian and Japanese) with an impressive record in awards and a remarkable variety of games and features. King Billy has prioritized the creation of a superb user experience focusing on the myth of King Billy and his Kingdom and treats all players with the specialness they deserve.
Sweden's government proposes increased gambling tax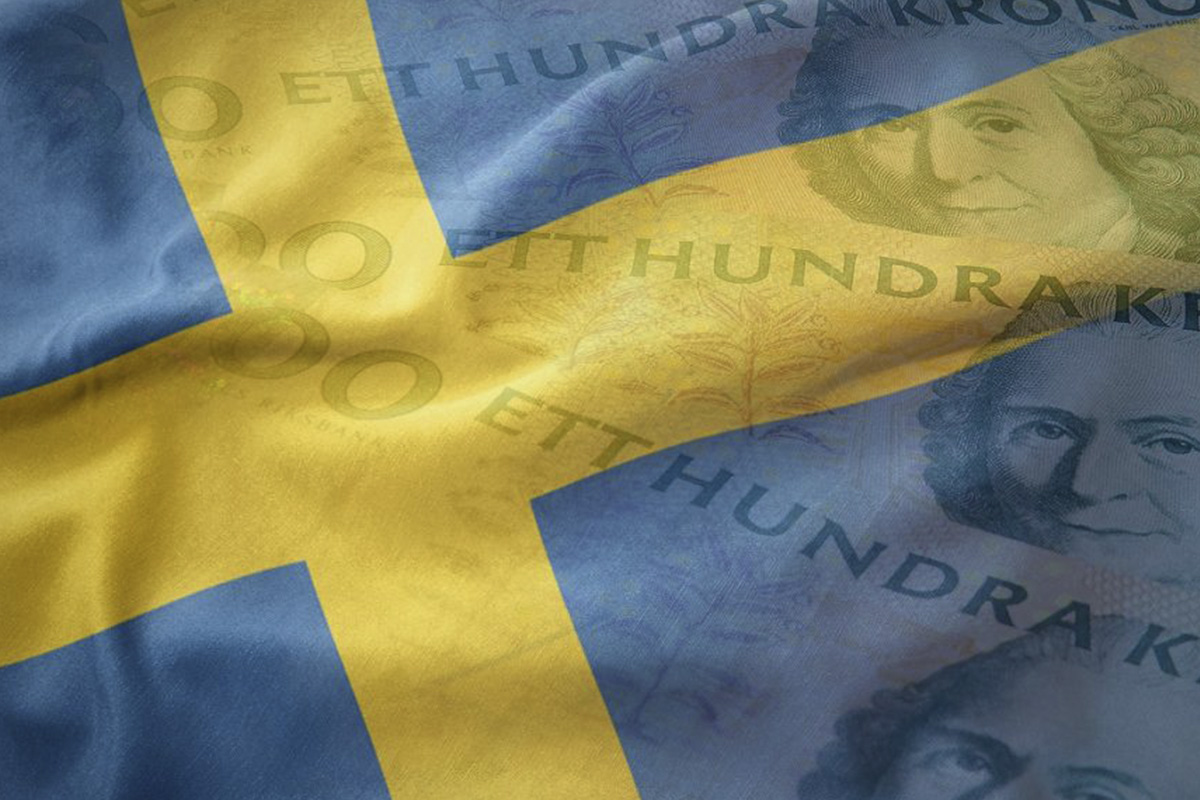 Reading Time:
3
minutes
Sweden's government has today Wednesday proposed an increase in the gambling tax, from 18 percent of GGR to 22 percent of GGR. The reason, according to the government, is that the gambling market should have stabilized since the reregulation in 2019 and that channelization is said to be high.
BOS Secretary General Gustaf Hoffstedt comments:
The announcement from the government is deeply disappointing, above all because it shows that the government does not understand or has taken to heart what kind of market it is set to govern. Even less has the government understood the vulnerable position that market is in.
We were recently able to show that channelization in the Swedish gambling market is 77 percent. Some gambling verticals, including online casino, are as low as 72 percent. The trend is also declining, in other words the channeling decreases over time.
We are already far from the state's goal of at least 90 percent channelization, and if this tax increase is approved by the Riksdag, we will soon be down to the channelization we had before Sweden reregulated its gambling market in 2019. A reregulation that took place because Sweden had such a low channelization at the time.
Sweden's government must perform much better than this. There is still time to withdraw the proposal, concludes Gustaf Hoffstedt.
The government's proposal can be found in Swedish on pages 289-290 here: https://www.regeringen.se/contentassets/e1afccd2ec7e42f6af3b651091df139c/forslag-till-statens-budget-for-2024-finansplan-och-skattefragor-kapitel-1-12- appendices-1-9.pdf
Below a Google translation of the same text:
Increased gaming tax
The government's assessment: The excise tax on gambling should be increased from 18 to 22 percent of the balance for each tax period.
The upcoming proposal should enter into force on 1 July 2024.
The reasons for the government's assessment: One of the purposes of today's gambling regulation is to protect the surplus from gambling activities for the general public by contributing to the financing of government activities. With the exception of gambling that is reserved for public benefit purposes, licensed gambling is taxed according to the Act (2018:1139) on tax on gambling. According to this law, excise duty is levied at 18 percent of the balance for each tax period. The balance is made up of the difference between the total stakes and the total payouts. A taxation period consists of one calendar month.
An increase in the tax on gambling should be well balanced to avoid a major negative impact on the proportion of gambling that takes place at the companies that have a license for gambling in Sweden. From the bill A reregulated gambling market it appears that a tax of just over 20 percent can be considered compatible with an aim to achieve a channelization rate of at least 90 percent (prop. 2017/18:220 p. 258). In that bill, however, a lower tax level was proposed for precautionary reasons. The current tax rate of 18 percent has applied since the Swedish gambling market was reregulated in 2019. The gambling market has since stabilized and channelization has increased significantly. In addition, measures have been taken to exclude unlicensed gambling from the Swedish market, which came into effect 1 July 2023 (prop. 2022/23:33). The reasons for caution when setting the tax level should therefore not be as strong now as during the re-regulation. An increase from 18 to 22 percent is judged to be at a suitable level to strengthen the financing of government activities, without it leading to too great an impact on the companies and the size of the tax base. The excise tax on gambling should therefore be increased from 18 to 22 percent.
The upcoming proposal should enter into force on 1 July 2024. The government intends to return to the Riksdag in the spring of 2024 with a proposal according to the above. The upcoming proposal is estimated to increase tax revenue by SEK 0.27 billion in 2024 (half-year effect) and thereafter by SEK 0.54 billion per year.
ACMA Blocks More Illegal Offshore Gambling Websites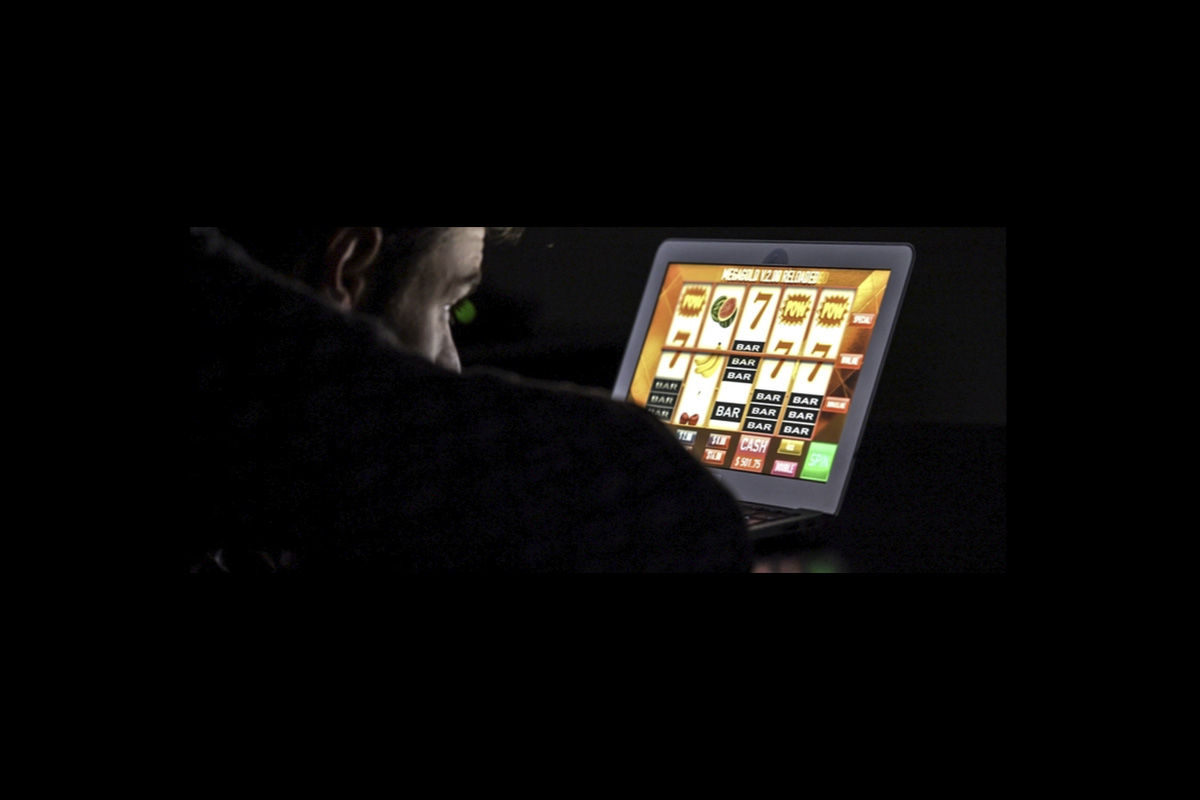 Reading Time:
< 1
minutes
The ACMA has requested that Australian internet service providers (ISPs) block more illegal offshore gambling websites, after investigations found 5 services to be operating in breach of the Interactive Gambling Act 2001. The latest sites blocked include Viperspin, Just Casino, Betandplay, Play Fina and Comic Play Casino.
Since the ACMA made its first blocking request, 835 illegal gambling and affiliate websites have been blocked. 215 illegal services have pulled out of the Australian market since the ACMA started enforcing new illegal offshore gambling rules in 2017.
Website blocking is one of a range of enforcement options to protect Australians against illegal online gambling.
Gaming Americas Q3 Meetup: US Legislation Round-up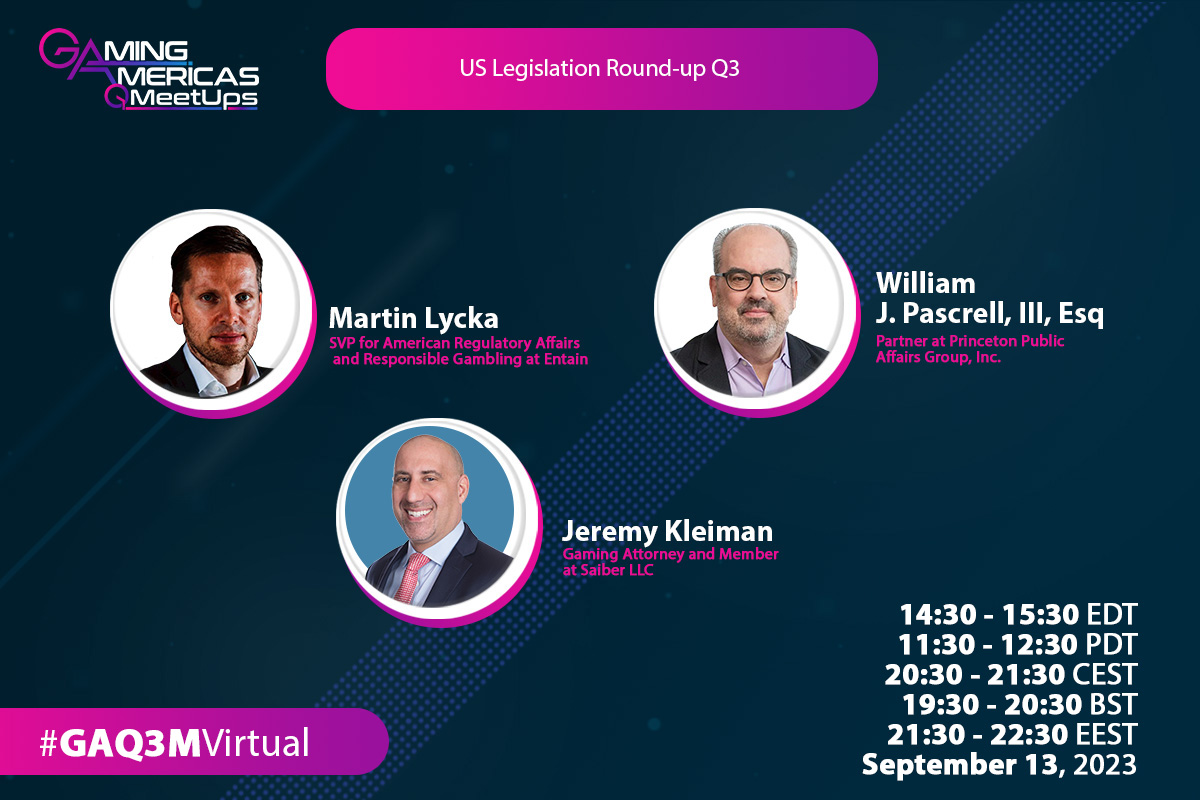 The Gaming Americas Quarterly Meetups by Hipther Agency are designed to keep you up-to-date with what is fresh in the North American and Latin American gambling industry.
The meetups feature several panel discussions per region and topics that are joined by key industry experts, CEOs, C-Level Executives, Business Development Managers, and sometimes government officials/regulators.
The Gaming Americas Q3 Virtual Meetup that took place on September 13 brought back the quarterly US Legislation Round-up with our favorite experts, Bill Pascrell, III (BP3), Partner at Princeton Public Affairs Group, Martin Lycka, SVP for American Regulatory Affairs and Responsible Gambling at Entain, and Jeremy Kleiman, Gaming Attorney and Member at Saiber LLC.
Gaming Americas Q3 Session 2: US Legislation Round-up
Speakers: Bill Pascrell, III (BP3) | Martin Lycka
Moderator: Jeremy Kleiman
Watch the Session on YouTube and HiptherTV!
In this edition of the US Legislation Round-up, moderator Jeremy Kleiman immediately delved into the major developments of the past quarter. He invited Bill Pascrell to kickstart the conversation with insights into Florida's online sports betting launch, thanks to the Seminole-Hard Rock collaboration.
Bill shared his unique perspective, having represented Hard Rock International for the last 11 years. He revealed that while Hard Rock had initially launched betting, legal challenges forced a temporary shutdown. However, recent legal developments suggest that Hard Rock is poised to relaunch on September 19th. Bill credited this success to Jim Allen, Chairman of Hard Rock International and CEO of Seminole Gaming, as well as the entire Hard Rock Team and the Seminole Tribe.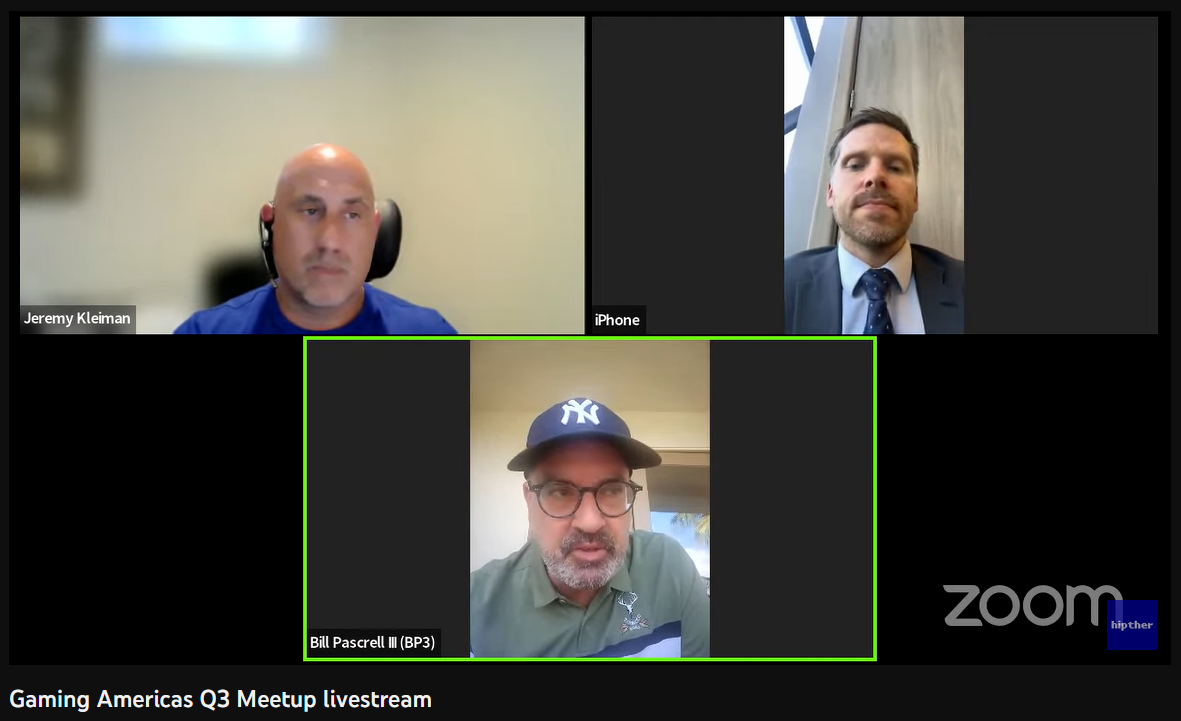 Bill also touched upon the legal complexities surrounding this case, especially regarding the Indian Gaming Act. He expressed excitement about Florida becoming the largest state in the nation to launch sports betting, emphasizing the enormous opportunities it presents.
Jeremy followed up by asking about the regulatory framework and potential collaborations with Hard Rock. Bill explained that opportunities for collaboration, both online and in retail, hinge on the Indian Gaming Act's provisions. He also hinted at the possibility of ancillary services and additional partners.
Martin Lycka joined the conversation, emphasizing that Florida's unique regulation is an example of the intricacies in US gambling and sports betting laws. He discussed the tax rates and restrictions in Florida and how four key states, including New York, California, and Texas, will shape the future of the US market.
The discussion then shifted to California, where Bill discussed the need for a ballot referendum due to the state's complex political landscape and gaming entities.
Regarding Texas, Bill shared that it has no history of gaming, with many Texans crossing state borders for gambling. Regulatory attempts in the state have thus far failed, with potential regulation expected in the spring of 2025.
The conversation touched on the crucial role of professional sports teams in shaping gaming regulation. Bill emphasized that these teams will be license holders for venues and possess significant political influence.
Martin pointed out the cultural contrasts in Texas, a conservative state with popular sports teams eager to embrace sports betting. He also drew attention to New York's high tax rate, which poses challenges for operators.
Jeremy shifted the discussion to responsible gaming, with Martin informing us that September is the Responsible Gambling Education month in the US, underscoring the importance of responsible gaming education throughout the year.
In summary, our panel of American gaming specialists provided a comprehensive session with valuable insights into US gambling legislation. They highlighted both the challenges and progress in key states, setting the stage for the future of the industry.
Watch the full US Legislation Round-up for Q3 on HiptherTV
Stay tuned for Session 3 of the Gaming Americas Q3 Meetup and the special focus on "AI Issues"!