Reading Time: 3 minutes
Mark Wadie, founder of online casino comparison site theslotzbuzz.com, talks about why the latest high variance slots have an appeal for sports bettors.
The video slots market in the UK has seen a massive swing towards high variance games in recent months, driven in part by the popularity of Big Time Gaming's Megaways
format. But it's not just traditional slots fans who are getting in on the action. With their edge of the seat gameplay and unpredictable, all or nothing payout models, high variance games now appeal to sports bettors, too.
Before Megaways
the best high variance games all had something of a cult following. Titles like Microgaming's Immortal Romance, WMS' Raging Rhino and NetEnt's Dead or Alive have always had a special place in the heart of every slots fanatic. The biggest casino forums are packed with threads about how to unlock a screen full of wilds on Dead or Alive, alongside dark conspiracy theories about why the maths model on such and such a game is rigged.
But Big Time Gaming's slots, and the string of copy-cat games from rival producers that have come in their wake, have made high variance more of a mainstream concern.
The art of creating a good high variance slot has always been in creating a thrilling win sequence where several features dovetail on screen to drive cumulative win lines with high value symbols and often sky-high multipliers. Now games like Bonanza, White Rabbit and Extra Chili have hit that sweet spot in a bigger way than ever. These games usually make the player wait until the free spins round opens up where features like cascading wins tie in with progressive multipliers and re-triggers to create a burst of adrenaline-pumping big wins. The kind all big gamblers are waiting for.
The success of this format has driven these games to the top of the rankings for many online casinos and made other types of gambler sit up and take notice.
One group to whom these games will inevitably appeal is sports bettors.
By their nature, high variance slots are unpredictable but thrilling. They leave the player either crushed or elated. There can be long periods of lows, with no wins and a dwindling account balance, followed by a short, electric run of big wins. It's take-no-prisoners stuff, and for some, it's the kind of gambling experience that's reminiscent of high risk, long odds betting on Accas or blindly backing your favourite team throughout the football season. We know that it rarely comes off, but like Leicester winning the title, or that ludicrous accumulator that actually paid out, the good times are really good!
There is currently a glut of these high variance games on the market. Not all are of such high quality, but here is a pick of three of the best from the last 12 months.
The Final Countdown by Big Time Gaming
The follow-up to the popular Danger! High Voltage uses an 80s stadium rock-anthem combined with a 'cloning reels' feature, 'cloning wilds' and massive multipliers to build tons of anticipation for gamblers looking to hit that elusive big win. The game has a maximum 888x multiplier in the 'Heading for Venus' round. Since its release, YouTube channels have been packed with videos showing just how big the payouts on The Final Countdown can get.
Genie Jackpots Megaways
by Blueprint
Since Blueprint licensed the Megaways
engine from Big Time Gaming a string of re-makes have been pushed out by their development team. Perhaps the best of the bunch is Genie Jackpots – a classic progressive slot getting the Megaways
treatment. Once again there are lots of free spins and multipliers, as well as the appearance of the genie himself to bring about big wins for players lucky enough to hit pay dirt.
Raging Rhino Megaways
by WMS
For high variance slots fans, Raging Rhino is a stone-cold classic. It's 4,096 ways to win game mechanic has been copied many times since, but never bettered. Here, the game is locked into the Megaways
engine to give it a super-charged feel with even more free spins and those all-important multipliers, as well as rumoured top payouts well in excess of 10,000x the player's stake per spin.

Source: European Gaming Media
This is a Syndicated News piece. Photo credits or photo sources can be found on the source article: High Variance Slots That Sports Bettors Will Love
What makes Turbo Games' provably fair games so special?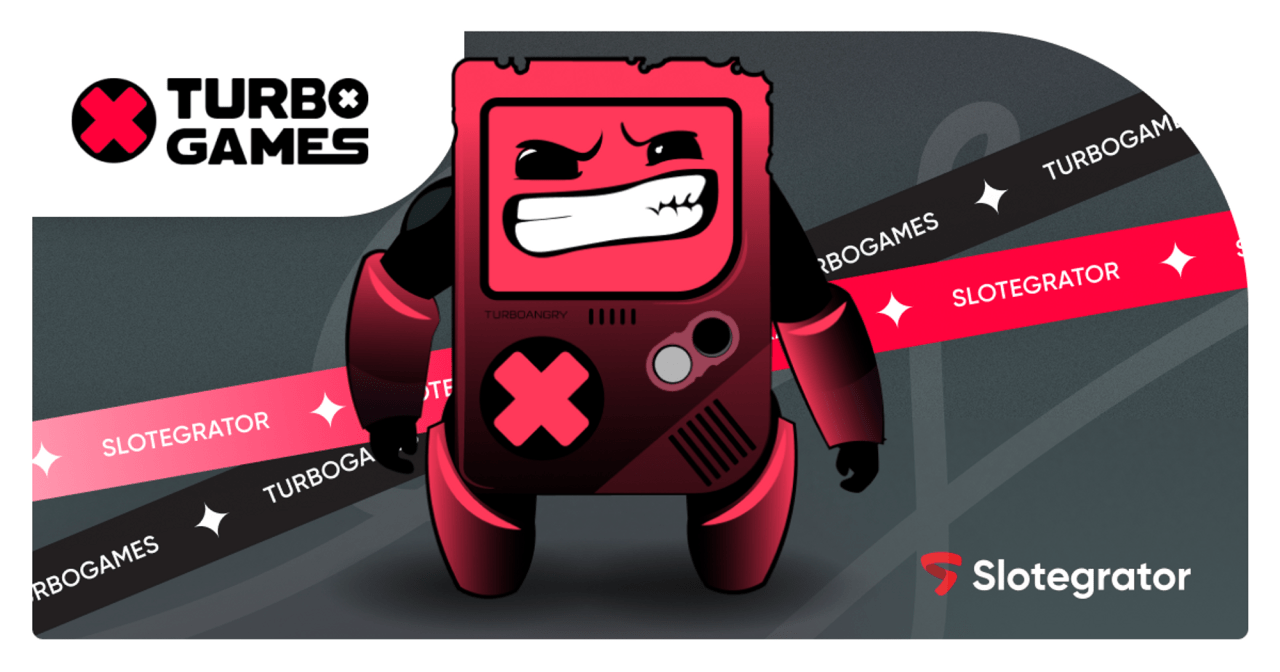 Reading Time:
4
minutes
A partnership between game developer Turbo Games and iGaming solution provider and aggregator Slotegrator began in November 2022 via the APIgrator game integration solution. Since then, the collaboration has been developing successfully — and now it's time to analyze what made it successful.
Turbo Games has noticed how the new technologies spreading throughout the industry can work for the good of brand transparency and player loyalty: "We can already see how blockchain technology has made it possible to make betting checks more accessible to players. All you need is a blockchain-hash and a decoder service. We think we will continue to move in this direction. Many traditional online casinos do not offer the possibility to check the bet. Sooner or later we all have to come to this. Perhaps the development of artificial intelligence will help here, because we are already seeing its involvement in all spheres of human life."
Turbo Games specializes in provably fair games. Provable fairness is a concept where players can verify their wins or losses using blockchain technology — the outcome of the game is dictated by a smart contract and is absolutely random, barring the possibility of any human involvement. Using cryptographic hashing algorithms, the gambling site and the player's device both generate seeds (random strings of numbers). Players receive a key that allows them to check the results; if the results are the same as the game round they witnessed, it proves that there was no foul play.
According to statistics from Turbo Games, the audience for provably fair games is mostly between 18 and 25 years old. However, there are also players aged 35-40 who prefer traditional games but would like to try something new, and have turned their attention to provably fair games.
There are good odds that the technology of provably fair games will become more popular, if not even commonplace, because it gives players a feeling of transparency and proves that the business is trustworthy without the need to search through dozens of reviews. Whereas many innovations in iGaming simply add entertainment, provable fairness addresses security concerns and reassures players that they're not being exploited, which is invaluable.
Provably fair games are beneficial for both players and online casinos. Vadim Potapenko, Head of Sales at Turbo Games, comments: "It often happens that the users are not satisfied with the result, because gambling is not only about big wins, but also possible losses. By allowing them to check the fairness of a bet, we make life easier for platforms and players. Of course, this allows us to communicate with partners and users that we work honestly and that's why they should trust our games."
Ayvar Gabidullin, Business Development Manager at Slotegrator, adds that "this type of game is now becoming more and more popular and has great potential for both players and game providers in the future. On the part of the player, the advantage is that the player can always be sure that his game is fair and he can independently check any of his bets. And for the game provider, this also simplifies the process of implementing casino games, since now it will not be necessary to obtain the appropriate certificates from independent laboratories before launching new games, they can immediately enter the market with these games and where anyone can check the result and make sure that that there is no cheating with players. Many game providers are starting to look towards this type of game. And as far as I see, many operators are starting to think about adding these games."
What do players in 2023 need? The iGaming industry is all about reputation and trust. Players have a huge number of platforms to choose from, making them pickier and pickier. There's an abundance of forums where players leave reviews, so if players view a brand as untrustworthy, there are plenty of places they can share their opinion. Provable fairness not only stops that from happening, it provides evidence to the contrary, giving players something else to talk about.
Slotegrator also recommends investing time and effort into localization and creating an effective and detailed marketing strategy — before trying provably fair technology players need to get to the platform, and there is no acquisition without marketing.
 ABOUT SLOTEGRATOR
Since 2012, Slotegrator has been one of the iGaming industry's leading software and business solution providers for online casino and sportsbook operators.
The company's main focus is software development and support for online casino platforms, as well as the integration of game content and payment systems.
The company works with licensed game developers and offers a vast portfolio of casino content: slots, live casino games, poker, virtual sports, table games, lotteries, casual games, and data feeds for betting.
Slotegrator also provides consulting services in gambling license acquisition and business incorporation.
More information: https://slotegrator.pro/
ABOUT TURBO GAMES
Turbo Games — a provably fair games provider that belongs to Turbo Stars company — has an ambitious goal to establish widespread recognition throughout the iGaming world. Even though it is young, the company consists of professionals who have been working on the brand for over five years and are even planning to introduce a new brand for a wider audience soon.
Turbo Games also works in Europe, India, and South Africa, where the company sees the most potential and expects the same "hype" as in Brazil.
The portfolio of Turbo Games consists of 21 titles, including well-known games like Mines, Crash X, DoubleRoll, Hi-Lo, and Plinko. The studio releases a game every month. However, not all games are developed from scratch. Wicket Blast and Spin Strike, the last two releases, are based on cricket and the Indian Premier League. Crash X remains the most popular fast game in the Turbo Games portfolio, and the studio reports that crash games enjoy stable levels of popularity. Overall, the main focus of the brand is provably fair games.
More information: https://turbogames.io/
Games Factory Talents has teamed up with Nordic Game to bring you Nordic Game Talents.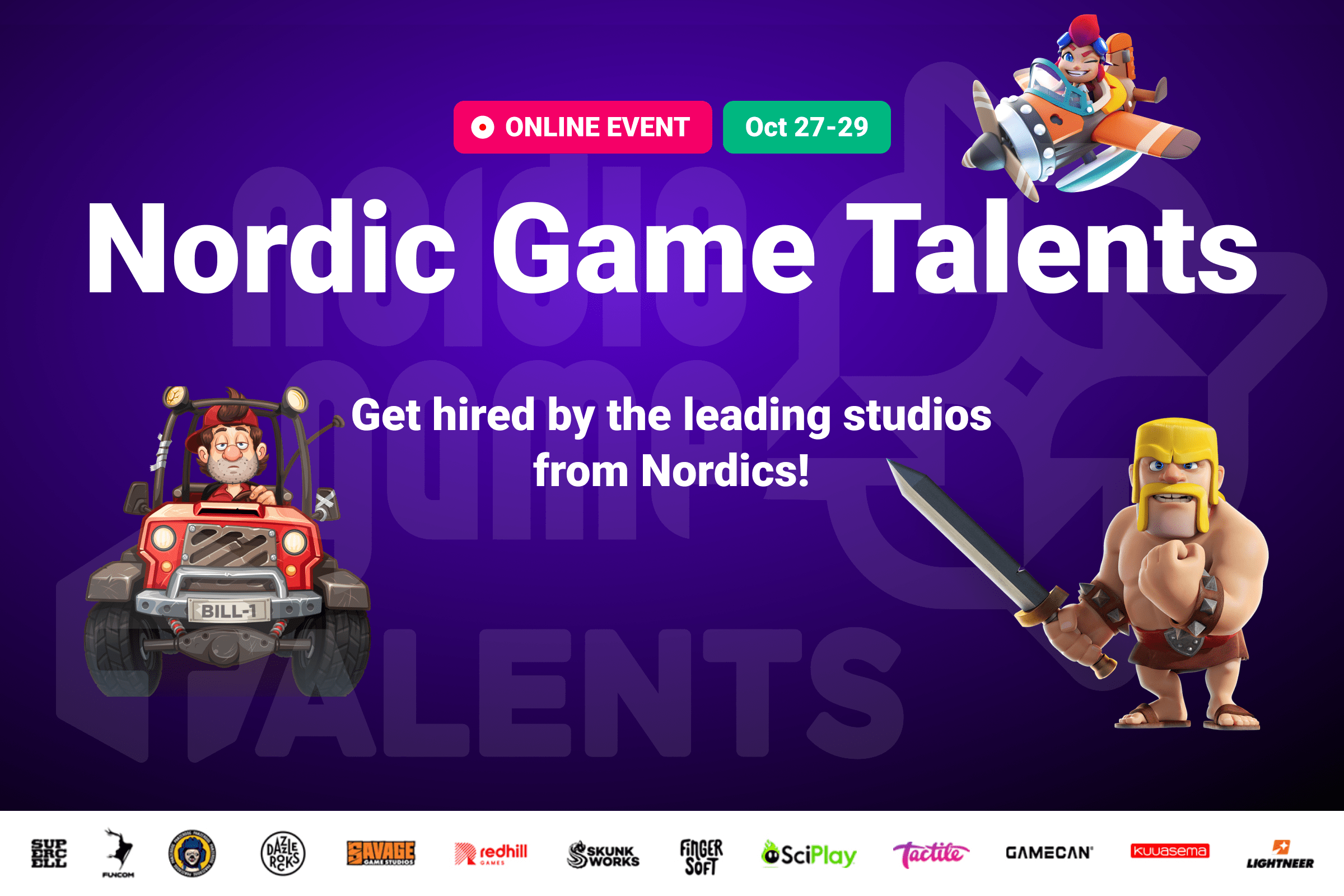 Reading Time:
2
minutes
Looking to take your career to the next level in the games industry? Then, Nordic Game Talents is the place to be! Games Factory Talents has teamed up with Nordic Game to bring you Nordic Game Talents.
From Oct 27-29, the online and interactive event is dedicated to recruitment and career building in the creative & games industry within the Nordic region. The event empowers participants to be part of a bigger community and motivates them to explore new paths in achieving their career goals.
Hiring creative & games studios – Supercell, Funcom, Panzerdog, Tactile Games, Gamecan, Fingersoft, Dazzle Rocks, Redhill Games to name a few from the Nordic region will be participating in the event. These studios will share information on their latest projects, work culture and what it takes to be part of their team. The individual games associations from Finland, Denmark, Sweden, Norway and Estonia will share insights through live sessions on the booming games industry in their respective countries. Career development topics pertinent to job seekers like – How to have a successful first interview, Creative Portfolio reviews will also be discussed.
Experienced game industry professionals and individuals beginning their careers from around the world are welcome to join the event. One-to-one interviews with the hiring studios can be scheduled through the event platform. A great opportunity to get to know the studios and network with game professionals from around the world.
Participating in the event
As a job seeker attending Nordic Game Talents, take a few minutes to fill out a simple registration form. After filling the registration form you will receive a link to the online event platform – PINE, to join the event on 27th October. Participants joining Nordic Game Talents will also receive a free-of-charge pass to the Nordic Game Conference.
To view the complete agenda, please click here and to learn more about the event please visit Games Job Fair
About Games Factory Talents
A Helsinki-based talent attraction agency dedicated to the games & creative industry. Our services include direct recruitment, organizing game job fairs and managing a community of game industry professionals through our GameDev Talent Board.
To learn more about Games Factory Talents visit – Games Factory Talents
Cumulus Media Launches 810 THE SPREAD, the Bay Area's First Sports Station Focused on Sports Betting
Cumulus Media (NASDAQ: CMLS) announces that it has launched the Bay Area's first Sports radio station focused on sports betting, 810 THE SPREAD. The new station brings sports and sports betting news, information, and insights to the burgeoning and underserved sports betting audience in San Francisco. 810 THE SPREAD will deliver behind-the-book perspectives from experts in a highly entertaining and engaging format. 810 THE SPREAD goes live today on the legendary 810am frequency that has been the 80-year home of historic Talk Radio KGO-AM. Cumulus San Francisco also launched the station's new website at www.810thespread.com. Kevin Graham, Program Director of Cumulus' sister sports stations KNBR 680AM/104.5FM and 1050 KTCT, adds Program Director duties for 810 THE SPREAD.
Larry Blumhagen, Vice President/Market Manager, Cumulus San Francisco, said: "810 THE SPREAD joins our sports brands KNBR 680AM/104.5FM and 1050 KTCT for a trifecta of dynamic sports content across four signals and streaming everywhere. We are excited about this new chapter and look forward to serving the Bay Area's passionate sports fans in an incomparable way."
Blumhagen added: "This is a bittersweet day for us, as it's hard to say goodbye to the legendary KGO, which has been a part of listeners' lives for so many years. We want to thank all the people who have been a part of KGO's historic run these many years – and the listeners who loyally tuned in to the station. Times change, and we must change with them."
Kevin Graham, Program Director, 810 THE SPREAD, said: "810 THE SPREAD will be the Bay Area's best bet for sports fans and sports betting enthusiasts, and we are pleased to introduce sports-betting radio to our community. The station will feature a lineup of expert personalities that deliver unique sports talk and sports betting insights that entertain, inform, and engage, along with Cal Football and Basketball as well as select professional and college sports play-by-play events. While 810 THE SPREAD will feature specific gambling information, we believe our entertaining presentation will make it a favorite for all Bay area sports fans and a perfect complement to the legendary KNBR and KTCT. With its addition, it truly shows Cumulus' commitment to the Bay area as 'The Sports Leader'!"
The weekday programming lineup for 810 THE SPREAD includes:
6am-9am – Bet QL Daily – The must-consume show for sports fans and betting fans alike. Hosted by Joe Ostrowski, Joe Giglio, and Erin Hawksworth.
9am-12pm – Jim Rome - Aggressive, informed sports opinions, rapid-fire dialogue, and plenty of sports smack. As one of the most prolific sports talk hosts in America, Rome draws massive tune-in with legions of fans known as clones, who live for Rome's take on the day's largest issues in sports.
12pm-4pm – You Better You Bet – Nick Kostos and Ken Barkley have you covered for the best bets on the biggest matchups, the latest line movement and updates in the futures market. We'll have up-to-the-minute coverage of backdoor covers and bad beats, and the cheers and tears that come with them. It's sports betting conversation like you've never heard before.
4pm-8pm – Bet MGM Tonight – Live sports betting updates for all the night's games as they happen – plus live "look-ins" for Major League Baseball games in progress. Get the latest scores, sides, totals, props, parlays, futures, and much more with hosts Quinton Mayo, Trysta Krick, and Ryan Horvat.
8pm-12 Midnight – CBS Sports Radio
BetQL Network programming is provided by Cumulus Media's Westwood One through a partnership with Audacy.
For more information or to stream 810 THE SPREAD, visit: http://www.810thespread.com.