Reading Time:
2
minutes
EveryMatrix has agreed a multi-year partnership with UK tier-1 operator Matchbook to supply its CasinoEngine platform and cross-product BonusEngine technology with the aim to transform the brand's casino business.
CasinoEngine, the industry's leading integration and productivity platform, will power Matchbook's entire casino operation, alongside BonusEngine that will further fuel the brand's growth with cross-product bonusing tools proven to increase reactivation, acquisition and retention and generate outstanding results.
Founded in 2004 Matchbook is a well-known online UK betting exchange that has developed a significant sports betting player base in its home territory through its low margin sports markets and innovative product offering.
CasinoEngine will aim to significantly grow Matchbook's complementary casino offering into a world-class, multi vertical, digital entertainment experience with access to an ever-growing portfolio of thousands of best performing games.
EveryMatrix has a proven track record of generating Year-on-Year (YoY) record results for tier-1 casino customers. In 2022 Gross Gaming Revenue (GGR) casino performance for EveryMatrix operator partners generated more than €1 billion, with further record quarters in Q1 and Q2 2023 of €374m and €432m, up 77% and 86% YoY compared to Q1 and Q2 2022 respectively.
Matchbook will also integrate JackpotEngine and BonusEngine to further boost its gaming division through flexible and configurable jackpot customisation and a variety of industry-leading player reward and bonus management features.
Stian Enger Pettersen, Head of CasinoEngine, EveryMatrix, said: "We've long admired Matchbook as one of the standout brands in the UK, so we're delighted to be working with them to accelerate their casino business and take it to new heights through the power and possibilities of CasinoEngine and BonusEngine.
"We've shown time and again that our technologies, products and services combine like no other to create the ultimate casino productivity platform that drives both instant results and creates sustainable long-term growth for brands, no matter what market they are in."
Malcolm Graham, CEO, Matchbook, said: "Our sports product is well recognised as best-in-class and, with our new partnership with EveryMatrix, we fully intend to replicate that success in casino creating the ultimate 21st century player experience with the latest personalised content, bonuses and rewards.
"I'm delighted to have EveryMatrix on board and we're all looking forward to the journey ahead."
OddsMatrix launches Fast Markets ahead of new football season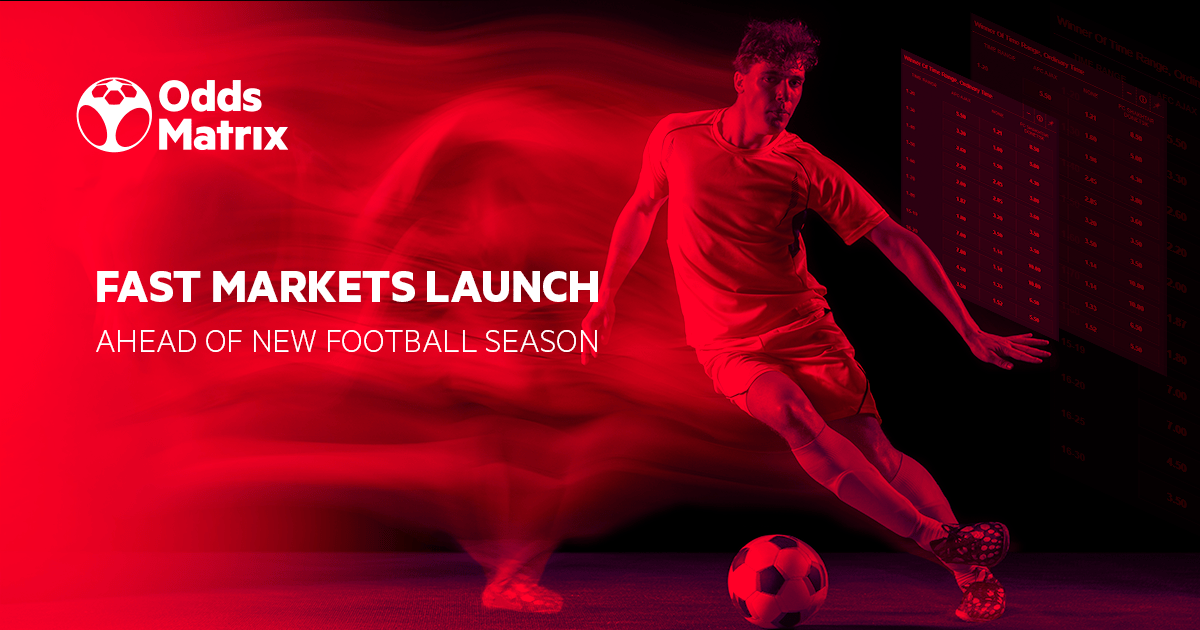 Reading Time:
2
minutes
OddsMatrix, EveryMatrix's leading B2B sportsbook division, has launched 'Fast Markets' in time for the start of the 2023-24 football season, enabling operators to offer a new range of real-time, instant betting options across a variety of individual game moments.
OddsMatrix Fast Markets will supply leading sportsbooks with a wide range of in-game, time-driven betting options, providing brands with a further revenue stream ahead of the start of the new football season across a range of top leagues.
Brands will be able to offer a wide range of bet types across a variety of fixed time ranges from 5, 10 and 15 minutes and rolling 5-minute ranges. These include a goal to be scored within a specific time range by any, or a particular team, along with the winner of the time range.
OddsMatrix will initially launch Fast Markets for football with further phases expanding to other sports including basketball, tennis and a range of major U.S sports to be added at a later date.
Micro betting is a high-frequency, low-price sports betting product increasingly seen as a key driver to boosting in-play wagering across several sports, creating new opportunities for operators to differentiate, while also attracting a new generation of customers who favour instant entertainment, both increasing player engagement and casual player spend.
Tor Skeie, CEO, OddsMatrix, said: "Fast, or micro markets are a subset of in-play betting that allows players to bet on individual moments in a game. This latest way to bet has grown sharply in popularity and, as always, we are ahead of the curve, offering our customers the latest betting products before this summer's big kick-off across many football leagues.
"Fast Markets offers the real-time continuous betting opportunities of iGaming but with the skill of sports betting and we plan to build more betting options across many more sports in the coming months, particularly for U.S sports where tier-1 brands have already experienced significant increases in betting volumes as a result of micro betting."
EveryMatrix adds Complitech to boost technical compliance support
Reading Time:
< 1
minute
Leading platform and software provider EveryMatrix has signed terms to use Complitech, the technical compliance database for the online gaming industry.
EveryMatrix holds igaming software supplier licences both in EMEA and the United States and is a leading B2B provider delivering iGaming software, solutions, content and services for casino, sports betting, payments, and affiliate-agent management to tier-1 operators as well as to newer brands.
With Complitech, EveryMatrix will gain access to a powerful database which provides updated and complete technical compliance requirements for more than 50 regulated jurisdictions around the world. It also features a set of gap analysis tools to accurately assess the workload of new market entries based on the markets where a product is already live.
Mina Bolînu, Lead Technical Compliance Officer at EveryMatrix, said: "We are delighted to start using the services provided by Maxima Compliance that will improve our throughput and accuracy in navigating our industry's constantly changing regulatory landscape."
Miriam McCoull, Head of Complitech at Maxima Compliance – a ComplianceOne Group company, said: "We're really honoured to see a supplier as respected as EveryMatrix place Complitech at the heart of its approach to technical compliance. The Complitech database is trusted by those looking to achieve both excellence and efficiency across their compliance function. With new markets and functionality added on an on-going basis, it is a must-have tool for suppliers in regulated markets."
Complitech is delivered to partners by technical compliance firm Maxima Compliance – part of ComplianceOne Group – on a subscription basis.
EveryMatrix acquires DeepCI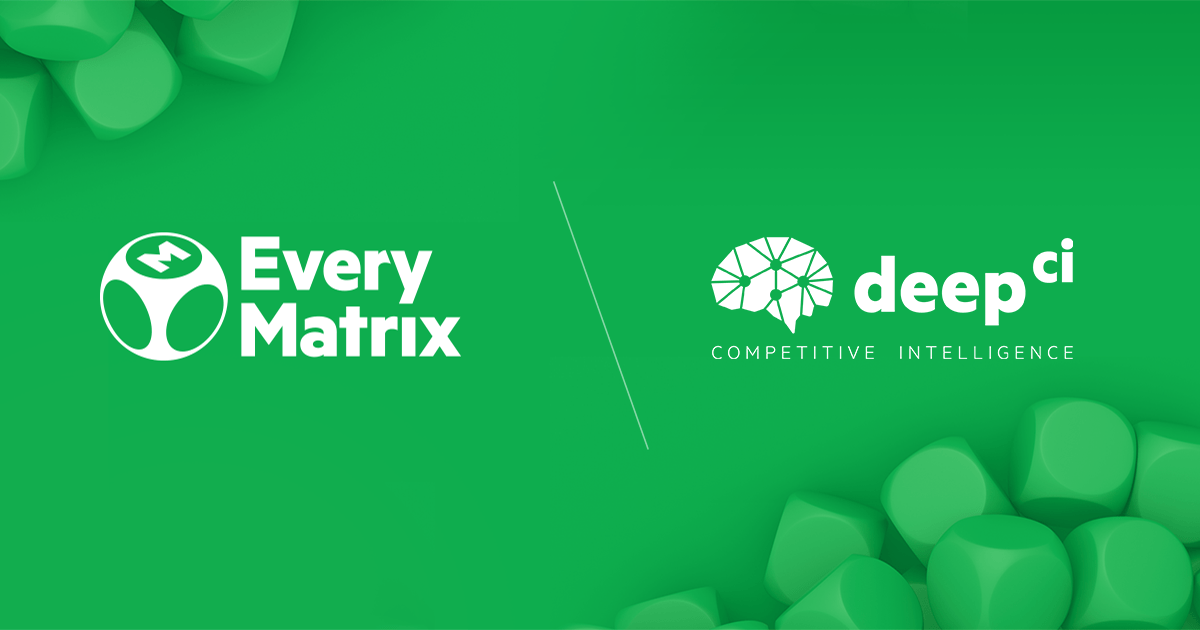 Reading Time:
2
minutes
EveryMatrix has acquired DeepCI, a unique, data-driven betting and gaming affiliate optimisation service. 
EveryMatrix has as of July 1st 2023 acquired DeepCI and will immediately integrate the team into its operations.
DeepCI was founded in 2020 by Riaan de Jager and Lewis Civin and has rapidly grown since then, delivering its services to some of the world's largest betting and gaming brands including bet365, 888, Betway, and Betsson.
Its proprietary technology monitors tens of thousands of affiliate sites on a global basis with the ability to identify the location of each gaming brand on every page of every website. This allows DeepCI to establish how much exposure each brand receives and how effective it is on each site, page, and market, while providing actionable recommendations to operators.
The service empowers gaming companies to track both their own and their competitor's performance and make rapid, revenue generating optimisation decisions.
Due to its remarkable growth DeepCI has already reached profitability. DeepCI CEO Lewis Civin will continue to manage the business as an independent part of the EveryMatrix Group.
Ebbe Groes, CEO, EveryMatrix, said: "DeepCI is a business we have admired for a long time and we're very pleased to now be able to welcome the team into the EveryMatrix Group. 
"DeepCI's data-driven tools are unique to our industry, their commercial success is similarly remarkable, and their product will bring significant benefits to our customers. Further, there are strong synergies with our similarly successful affiliate management product PartnerMatrix." 
Lewis Civin, Co-founder and CEO, DeepCI, said: "It's been a thrill launching and continually iterating DeepCI products. We've developed a 'must-have' data-driven product that continues to make a significant positive impact to iGaming brands every day on a global scale, while we are also working on an exciting roadmap of complementary tools that will bring even more value to customers." 
"The team and I are delighted to be joining the EveryMatrix Group. Our integration into this rapid growth business will enable us to further accelerate our development, create more innovative and disruptive tools in a faster timeframe and leverage the vast knowledge, expertise, and mutually beneficial technologies available within EveryMatrix."