CT Gaming has officially announced its attendance at G2E 2023, taking place in Las Vegas from 10-12 October. The Expo is recognized across the industry as a crucible of innovation and business opportunities, where CT Gaming will be presenting a blend of its legacy products and new developments at stand 2050.
Central to the exhibition will be the NEXT Slot Cabinet, famous for its combination of advanced technology and contemporary design. It features two 27″ HD monitors, enlarged CMS panel, and compelling game package options that ensure a high-quality experience.
Among the legacy products that have paved the way for CT Gaming's reputation will be the EZ MODULO 32/32. Featuring two 32″ HD monitors, this cabinet delivers a blend of both style and performance, as well as exciting multigames, such as Diamond King 2 which is set to deliver premium player experience.
The expo will also mark the introduction of the Mermaid's Quest, a new addition to CT Gaming's multigame portfolio. Featuring 12 captivating titles, all linked to a progressive jackpot, the package has a magical underwater theme. With two different types of bonus screens, set with white or black pearls, the multigame offers a masterful blend of excitement and entertainment built on carefully designed mathematical models that promise both small and large wins.
The Diamond King series will also be in the limelight, especially with the release of Diamond King 3. This edition brings to life the Mega Jack Trio, featuring timeless classics such as Slot-O-Pol Deluxe, Champagne 20, and Aztec Gold. Its predecessor Diamond King 2 and Diamond Tree 20, containing 20 of the most popular titles, all linked to the progressive Diamond Tree Jackpot, will also be on display. Diamond King 2, Diamond King 3, and Diamond Tree 20 are all interconnected as they are linked to the 3-level Diamond Tree Progressive Jackpot, which can be won on any bet.
The company's holistic approach to gaming solutions will be further demonstrated by the presence of the Casino management system, which is an all-in-one system that delivers everything a gaming hall needs in one place, making it essential for maximizing the performance of any venue.
"G2E is a key business event for us. It's not just about showcasing our products, but about communicating our vision, the progress we've made so far as well as our passion for development. We look forward to meeting with our colleagues in the industry and proving that CT Gaming is a global player at the forefront of innovation," Georgi Koprinarov, General Manager for Latin America, said.
CT Gaming to Unveil Innovation and Excitement at Peru Gaming Show 2023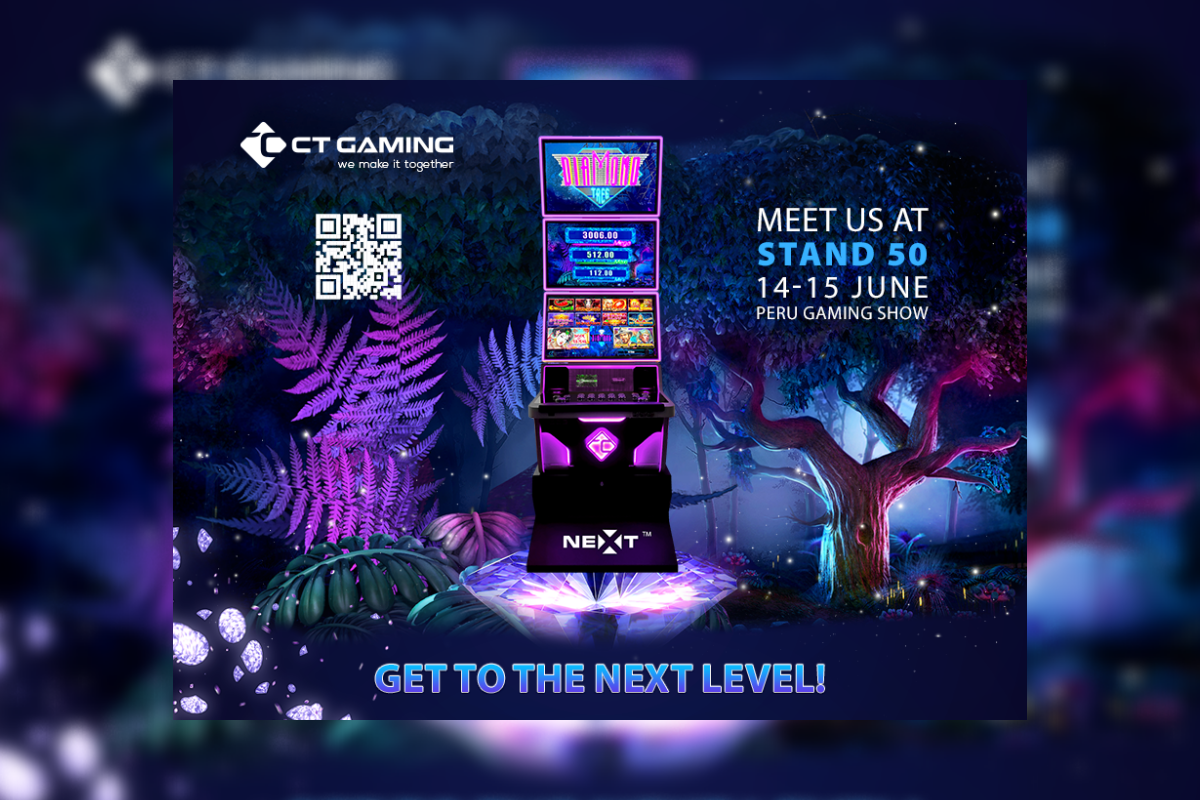 The Peru Gaming Show is just around the corner, and CT Gaming is gearing up to make a grand entrance.
"From 14 to 15 June, we invite you to visit us at stand 50, where we will be showcasing our latest and most innovative gaming solutions," Georgi Koprinarov, General Manager at CT Gaming for Latin America, said.
At the forefront of CT Gaming's display will be the remarkable EZ Modulo 32/32, a state-of-the-art slot machine that perfectly balances advanced technology and sleek design.
"We also look forward to showcasing our top-performing Next slot machine, which has become a true symbol of innovation and entertainment. The Next slot machine will captivate and entertain all visitors with exciting multigames that offer bonus features, compelling themes, and high-quality graphics," said Koprinarov.
A highlight of its line-up will be the Diamond Tree 20 games and Diamond King multigames, linked to the 3-level Diamond Tree jackpot. These titles combine a collection of player favorites, each offering unique gameplay mechanics, stunning visuals, and the chance to win big. From the enchanting Diamond Tree 20 games to the Diamond King series, these multigames are set to take the overall experience to new heights.
"The event will showcase our commitment to innovation, entertainment, and outstanding gaming. We are looking forward to presenting our latest products at what we believe will be an incredible opportunity to experience the future of gaming firsthand," said Georgi Koprinarov.
Peru Gaming Show 2023 promises to be an event full of networking opportunities, industry insights, and the latest advances in the gaming world.
CT Gaming to Showcasе its Latest Innovations at G2E Las Vegas
CT Gaming is going to showcase its latest innovations at G2E Las Vegas on October 11-13 at the Venetian Expo.
The leading manufacturer and gaming solutions provider will be located on stand 2050 to present its cutting-edge slot machines, comprehensive portfolio of multigames, and Casino Management System (CMS).
"Our team are excited to showcase our latest innovations at G2E Las Vegas and reconnect with the industry. We are constantly expanding our product portfolio and want to demonstrate that to visitors on the day," Georgi Koprinarov, General Manager for LatAm at CT Gaming, said.
Taking the spotlight is CT Gaming's latest slot machine, Next. The innovative cabinet stands out on any gaming floor with two 27" UHD monitors and a button panel with a built-in i-deck enhanced gloss finish. Players are immersed in an unforgettable gaming experience with a premium sound system. For practicality, additional features include a USB phone charger, a printer with an extension for 600 tickets, a cash register for 1000 banknotes and an enlarged CMS panel.
"CT Gaming is a market-leading company. We always strive to exceed expectations, and our latest cabinet Next is an example. Its sleek design, unique features, and cutting-edge content provide an unmatched gaming experience," Koprinarov said.
Next is offered with the Diamond King multigames which features CT Gaming's newest progressive Diamond Tree Jackpot. In this 3-level jackpot, multiple bonuses can be won at any time. A tree with diamonds appears on the second screen in the bonus mode, and once illuminated with a flash, the tree begins spreading sticky diamonds allowing hits of different jackpot levels at once.
"Our multigames will be the highlight of our showcase at G2E," Koprinarov added.
Diamond King I, CT Gaming's original multigame pack features 50 games, including 20 Star Party, Champagne & Fruits, Enchanted Fruits, Lord of Fortune, Celestial Dragon, and 20 Clovers Hot. 10 games included in the pack are connected to the innovative progressive jackpot Diamond Tree. The jackpot is on three levels that can be won on any bet.
"As well as showcasing our latest innovations, CT Gaming's well-known slot machine, EZ MODULO 32/32/32, will make an appearance at G2E," Koprinarov said.
With an ergonomic design featuring three 32" Full HD monitors, EZ MODULO provides players with a next-level immersive gaming experience. To add to the cabinet's aesthetic appeal, it is also equipped with bright LED lighting and an extra-large player's deck.
A primary component of its exhibition offering will be CT Gaming's CMS, designed to suit all customer needs. The system offers a range of modules, player tracking options, and a full report of the results for slots and live gaming.
"Our goal with our Casino Management System is to aid casinos in achieving the best possible results. Whether big or small, it suits every customer's needs at every level. We have successfully created a system that provides complete control, flexibility, and maximum optimisation for the user," Koprinarov said.
Regarding the online segment, the CT Interactive company, which has its roots in CT Gaming, will present its diverse portfolio at the stand.