Affiliate Managers under interrogation by GAV: Dobri Ugrenov, Affiliate Manager at Condor Affiliates
Dobri Ugrenov is Affiliate Manager at Condor Affiliates, who started by chance in this industry as a customer support agent in a leading company and within 8 short months he was promoted to Affiliate Manager and Affiliate Team Leader afterwards.
GAV: Hi Dobri, first of all, tell us and our readers a bit about yourself. How did your career start in the industry? What determined you to engage in this activity and start working at Condor Affiliates?
Dobri: I started by chance in this industry as a customer support agent in a leading company, and within 8 short months I had been promoted to Affiliate manager and Affiliate Team Leader afterwards. 5 years later, I decided to look for a new challenge and Condor Affiliates was the perfect match for me – bold and innovative brands that give me the opportunity to unleash my full potential. The makers of and people behind our brands are so passionate, it feels like a family business which is something very rare in this industry nowadays.
GAV: Condor Affiliates is the affiliate program for online casino brands Rembrandt Casino, Casino Sieger and b-Bets. What do you think is the key aspect affiliates appreciate regarding your affiliate program?

Dobri: We also have added 24Bettle which was launched in Jan 2016 – a unique, innovative brand based on the gamification concept. I believe one of our key aspects is working very closely with each one of our partners. Our devotion to this project cannot be measured, and it shows in everything we do – from promotional materials, constant improvements to our brands to the ongoing communication with our affiliates. Secondly we try to bring something new to the market. Also affiliates see that players are developing, and are getting intrigued by gamification, exactly something what we offer with 24Bettle.
GAV: What is your personal opinion about fair gaming? Do you think there is room to improve the general view and perception of the gambling industry? I mean, is there a new generation prepared to do that? Both Affiliate Manager and Affiliates.
Dobri: Fair gaming is a wide term. There is the side of the social and moral judgments and there is the side of the fairness of the games and terms. In my opinion the industry made a huge step forward in the last 5 years. Everyone knows the cowboy stories from a decade ago, in where the game providers delivered their games without an RNG, to mention an example. You will not see this happening again nowadays, at least not at the companies which are here for the long run. This is exactly reflecting what I wanted to say about this topic.
I think that this growth will continue to the new generation to get back to your question. But fair gaming is also a matter of education: there have to be terms in place to arrange for instant multiple account fraud – and people (players and affiliates) have to understand this.
GAV: Could you fill us in on your current offer for affiliates and maybe a brief description of your program?
Dobri: Condor Affiliates has a special offer for all new partners which is a 45% rev share for the first three months of our partnership. The idea is to give the best start to all of our new affiliates and lay solid foundation for a long-term cooperation. We have 4 brands: Rembrandt Casino, Casino Sieger, b-Bets and 24Bettle, of which each brand offers a Sportsbook, Casino (slots and table games) and Live Casino section. Every brand offers unique bonuses and an overall different experience to its players. Beside the gamification from 24Bettle, we auction Bonuses against loyalty points on b-Bets. Yes, a very unique feature. After 3 months, we will negotiate a custom made deal with our affiliates, based on extra services as unique content we can provide, method of promotion, and of course results. We aim to work closely with the affiliates by coaching them actively as well, so we can work towards a long term relationship, which will benefit both parties because at the end of the day, that is what doing business is about.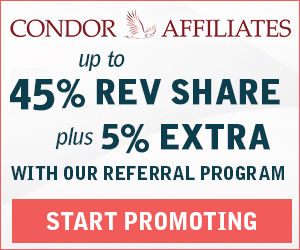 GAV: What markets does Condor Affiliates target, and what makes it stand out in the ever growing crowd of sports betting and casino affiliate programs?
Dobri: Currently we have our website translated in the following languages: German, Swedish, Norwegian, Finnish and English of course. But in general, we welcome players from all over the world as far as it is sustained.
What makes our brands stand out is the people behind them, the constant exchange of ideas and innovation – the urge to develop and always turn "okay " in "better" into "the best".
GAV: Since the London Affiliate Conference is almost here, we would like to ask your opinion on this event, are you guys attending these conferences or are you going to be in Berlin? How about SiGMA and the brand new Nordic Affiliate Conference?
Dobri: LAC is the best Affiliate event there is. So if anybody has not scheduled a meeting with our team yet, hurry, time is running out. Regarding AAC, BAC and SiGMA we will attend all, as for us it is extremely important to keep a close relationship with our partners and arrange meetings in person as regularly as possible. The Nordic Affiliate Conference is a very interesting idea, and we are planning to attend this one as well to meet new and existing partners. In Berlin we will be welcoming affiliates on our booth, just like our Oktoberfest themed stand last year!
GAV: Where do you think the online sports betting/casino industry will be in 3 years, and of course, on which scale do you see Condor Affiliates?
Dobri: There are so many technological opportunities such as the augmented reality; we all saw what Pokémon Go did. I believe in three years from now, we will be looking at a very different betting/casino industry, developed in such a futuristic and fun-tastic (gamification) way that no one can predict at this point. As for Condor Affiliates – 3 years from now, we will be the top partner for big and small affiliates, we will be on the edge of this technological enhancement in the betting/casino industry I just mentioned above. We don't aim to be the biggest, but we aim to be the best! The sky is our limit!
GAV: Tell us a bit about your team? As we know it's quite made of enthusiastic professionals, who think out of the box, and deploy even the wildest ideas, thus transforming the online gaming market, through innovation and reliability.
Dobri: Thank you! I could not have said it better myself. Every person in our team from the customer support agent to the CEO is always open to share ideas that might help improve our brands. To me personally, this is our greatest asset: the ability and power to change and develop ourselves and the company.
What we encourage most is the creativeness of solutions. A problem is only a problem when the solution is not creative enough. So we challenge one another to come up with exciting and outrageous ideas. Sometimes they are not practical enough, and we need to narrow it down. But take for instance 24Bettle: the originality of the features and gamification is a perfect example. And there will be more!
And that again is the beauty of developing our own system: everything is possible (but everything takes time ..!)!
GAV: Since Central and Eastern Europe offers a large pool of successful affiliates in the industry, do you think that this region is somehow overlooked by brands that are not applying for licenses in the demographic and are there many super-affiliates that you managed coming from this region?
Dobri: Being from an Eastern European country myself, I think the market is a bit overlooked. There are many reasons for it, and I don't believe it depends only on the operators themselves to get the license or enter the market – local politics and law structure is still quite vague in some countries which gives a big uncertainty to operators. And we all know that uncertainty is not fancied by any business. Plus, there is the additional fact that the marketing and segmented approach to some regions is different. You have to know your players in order to cater them and also what is the best way to make them convert. This being said – as an operator, you have to take all of this into account when you determine your focus markets.
GAV: Who is your favorite celebrity and if you'd have to a pick a destination in Eastern Europe, where would you travel?
Dobri: Favorite celebrity? I would rather say favorite artist: Jack White. I have been to a few Eastern European countries, so would visit Russia – Saint-Petersburg.
GAV: Where you wouldn't want to travel?
Dobri: Tough question, South Pole
GAV: What is your opinion about GAV (GamblingAffiliateVoice.com)?
Dobri: I like the concept of interviews and getting to know other affiliate managers and affiliates because it's very informative and fun at the same time. I always find something or someone interesting to read about. Keep up the good work!
This interview Affiliate Manager Interviews: Dobri Ugrenov-Condor Affiliates appeared first on EEGReport Magazine.